The 'Trade War Trade' in Stocks Suffers Its Biggest Setback
(Bloomberg) -- Investors seeking shelter in U.S. small caps just had the roof cave in.
Tuesday saw a massive rotation from domestically oriented U.S. equities into the developing-market stocks that had been abandoned as trade tensions between the world's two largest economies ratcheted higher.
The emerging-market fund outperformed by 2.5 percentage points on the session, its largest difference since February 2016.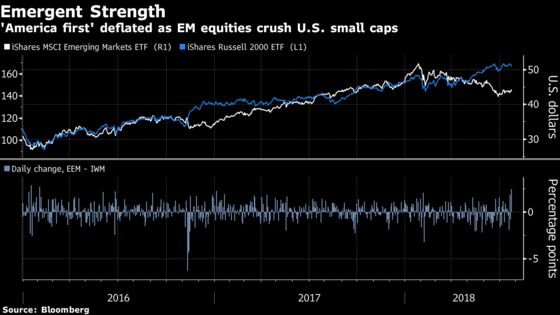 "The price action today reflects the market reducing the risk premia in the 'trade war trade,"' said Mayank Seksaria, chief macro strategist at Macro Risk Advisors.
EEM has a heavy weighting toward China, and in particular the BAT tech trio of Baidu, Alibaba and Tencent that were harshly punished in the back half of June. U.S. small caps, meanwhile, were seen as relatively immune from a trade war because of their elevated share of domestic sales. But after Tuesday's session, the emerging-market fund is outperforming its small-cap counterpart since the U.S. and China's clash over commerce crescendoed on June 18.
Seksaria cautioned that the odds of an escalation in trade tensions were more likely than not, but that fears surrounding border thickening would compete with Chinese stimulus as a driver of price action in global equities for the foreseeable future.
The stall in the greenback's rally has laid the foundation for the struggles of emerging-market assets to dissipate.
"The dollar spot index has stabilized below 95 over the past month, and that's helped to stabilize emerging markets pretty significantly," said Erin Browne, head of asset allocation at UBS Asset Management.
It's "telling" that the damage following the Turkish central bank's surprise decision to keep rates unchanged on Tuesday remained localized and contained, rather than having broader ramifications for emerging markets, she added.