Swelling Deficits Are Southeast Asia's Next Stability Test
(Bloomberg) -- Southeast Asian governments are staring down swelling budget deficits in the latest test for regional stability.
As higher U.S. interest rates and a stronger dollar roil currencies in the region and oil prices spike, governments from the Philippines to Malaysia are facing rising debt. A less rosy growth picture also means tax revenues may come in below targets, threatening budget goals.
The result is more borrowing at a time when interest rates are rising, putting additional strain on government finances.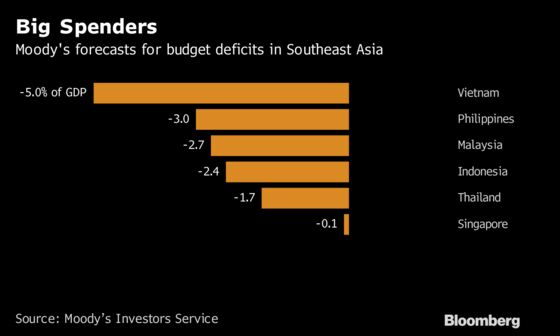 Many governments were already spending billions of dollars on much-needed rail and road projects before the market turmoil, and some, like Indonesia, are now scaling back those plans to keep deficits in check.
Here are the Southeast Asian nations with the biggest budget dilemmas:
Budget deficit, 2018 target: 2.8% of GDP
Moody's estimate: 2.7%
Malaysia's two-month-old government has credit agencies guessing on how much the balance sheets will be turned upside-down. Prime Minister Mahathir Mohamad has already delivered on some campaign promises that strain the government budget, scrapping a 6 percent goods-and-services tax and re-instituting fuel subsidies.
His administration has promised to offset the lost revenue with a new sales tax and cancellation of some big infrastructure projects, but it's yet unclear how much those initiatives will help even out the ledger.
Mahathir's focus is on bringing down debt, which Moody's Investors Service estimates is at 50.8 percent of gross domestic product, higher than other A-rated peers.
As a net energy exporter, higher oil prices are a boon for Malaysia, which will help offset some of the pressure on government revenues.
Budget deficit, 2018 target: 2.19% of GDP 
Moody's estimate: 2.4% 
To stabilize the currency and curb the current-account gap, the government is scaling back on some of its large-scale infrastructure projects that require imported capital equipment.
One area of increased spending: energy subsidies doled out to consumers to keep a lid on fuel prices. Finance Minister Sri Mulyani Indrawati says the move shouldn't hurt the deficit because as an oil producer, higher crude prices would provide some cushion. She sees the deficit at 2.12 percent of GDP this year, lower than the 2.19 percent forecast in the annual budget.
Budget deficit, 2018 target: 3% of GDP
Moody's estimate: 3%
President Rodrigo Duterte's "Build, Build, Build" program is producing too many bills, bills, bills, by some analysts' estimates.
While the ambitious infrastructure plan is much-needed to upgrade airports, roads and railways, it's also hurt the current account and put pressure on the budget. The proposed borrowing plan for next year is 19 percent higher than this year's program.
The government has raised its budget deficit target for next year to 3.2 percent of GDP from an estimated 3 percent this year in order to accommodate the infrastructure push. The deficit worries were a factor in failed government bond sales over the past month, while also weighing on the peso. The currency is among the worst performers in Asia, down 6.6 percent against the dollar this year.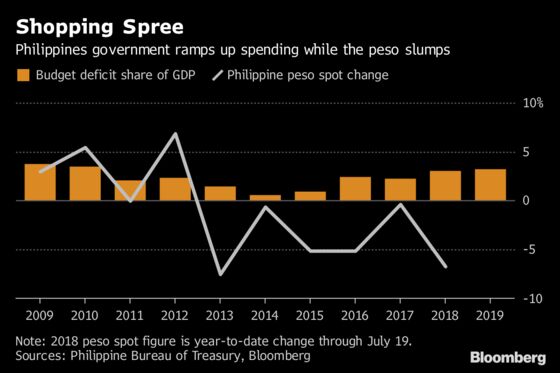 Adding to the budget pain, there's uncertainty about the government's move to a federal system and how that will affect revenue allocations. The IMF said in a statement on Wednesday that authorities should maintain a fiscal deficit of about 2.4 percent of GDP for this year and next.
Budget deficit, 2018 target: 3.7% of GDP
Moody's estimate: 5%
Southeast Asia's growth star has to guard against some new risks. Vietnam scored a sovereign ratings upgrade from Fitch Ratings in May because of a build-up of foreign reserves and stronger growth, but the fiscal outlook is a worry.
Fitch estimates a budget deficit of about 4.6 percent of GDP in 2018, which is higher than the 3.2 percent median for BB-rated nations, and compares with the government's own target of 3.7 percent. Vietnam needs to focus on stability and structural reforms rather than rapid growth in order to preserve its BB rating, according to Fitch.