Senators Propose Boosting Sanctions on Russia, Including Debt
(Bloomberg) -- Two leading U.S. senators said Tuesday they'll introduce a bipartisan bill to increase U.S. sanctions against Russia that would target Russian sovereign debt as well as the country's energy and financial sectors.
The announcement by Republican Senator Lindsey Graham and Democrat Bob Menendez follows last week's uproar after President Donald Trump stood next to Russian President Vladimir Putin in Helsinki and questioned the validity of the U.S. intelligence community's assessment that Russia interfered in the 2016 presidential election.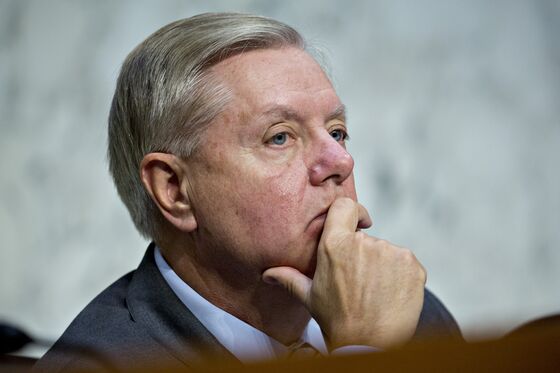 The ruble reversed gains just after the senators announced their proposal. It lost as much as 0.6% in Moscow, the most since July 19.
The bipartisan proposal is another sign that Trump hasn't been able to tamp down the furor raised after his news conference with Putin and his invitation for the Russian leader to come to the White House in the fall.
Graham and Menendez said in a joint statement that just as Putin has sought to challenge U.S. power and influence, "The United States must make it abundantly clear that we will defend our nation and not waver in our rejection of his effort to erode Western democracy."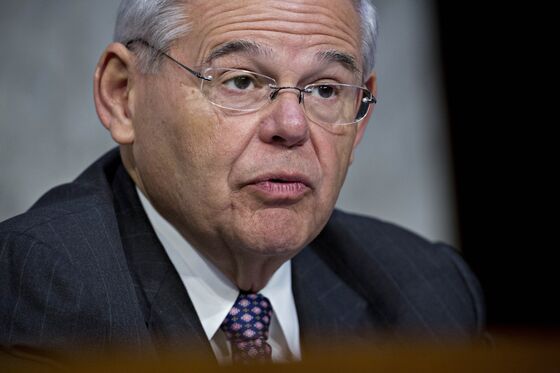 Graham of South Carolina and Menendez of New Jersey, the top Democrat on the Foreign Relations Committee, said their legislation will require Senate approval for any U.S. withdrawal from NATO. It will include increased efforts to counter Russian disinformation, and assistance to democratic nations in Europe to defend against Russian interference, the senators said.
Also on Tuesday, the chairmen of the Senate Foreign Relations Committee and Banking Committee said their panels will hold a series of hearings on Russia. The Foreign Relations panel, led by Chairman Bob Corker of Tennessee, is set to hear from Secretary of State Mike Pompeo on Wednesday. The panel will also hold hearings on the value of NATO, Russian activities in Syria and arms control issues.
The Banking Committee, led by Mike Crapo of Idaho, will hold hearings on implementation of sanctions enacted last year.
Senators Marco Rubio and Chris Van Hollen are pushing for a vote on a separate bill which also would impose new sanctions, including on debt transactions, for countries interfering in the midterm elections. Their legislation would impose stiff sanctions on several key Russian economic sectors if the Director of National Intelligence -- not Trump -- certifies that Russia interfered in any future election. The sectors include finance, energy, defense, and metal and mining.
The measure picked up eight new co-sponsors after the Helsinki summit.
Until now, Congress has taken mainly symbolic action on Russia. The Republican-led Senate on Thursday effectively rebuked Trump for considering Russia's request to question U.S. officials, giving voice to growing unease over the president's shifting policies toward his country's biggest adversary. In a resolution adopted 98-0, senators called on the U.S. to refuse to make any officials available for interrogation by Putin's government.
In the House, GOP leaders plan to move cautiously on any Russia sanctions that cast a wide net and could have unintended consequences, especially when it comes to sovereign debt markets, according to a GOP aide. House Republicans tweaked a separate Russia sanctions bill last year to resolve concerns from energy companies working on projects with foreign partners.
The House plans to take a five-week recess after this week. Speaker Paul Ryan was was unwilling to engage on Trump controversies at a morning news conference, as even the administration's threat to revoke the security clearance of former intelligence officials who criticized the Helsinki summit failed to get much of a response from him.
"I think he's trolling people, honestly," Ryan told reporters. "That's something that the executive branch deals with; it's not really in our purview."