North Korea Dismantling Key Missile Test Facility, Report Says
(Bloomberg) -- North Korea has begun to dismantle a key rocket and engine-testing facility, according to an independent analysis of satellite imagery, a move that could bolster nuclear talks with the U.S. amid signs of strain.
North Korean authorities have in recent days started demolishing a building at the Sohae Satellite Launching Station where space-launch vehicles are assembled before launch, according to a report published Monday on the 38 North website. Images from this month also show that a rocket-engine test stand used to develop liquid-fuel engines for ballistic missiles has been removed from the site, located in the country's northwest.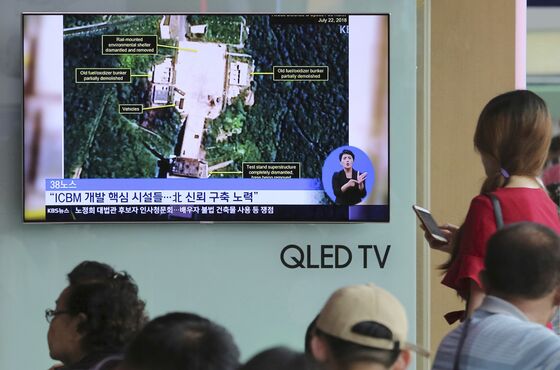 "Since these facilities are believed to have played an important role in the development of technologies for the North's intercontinental ballistic missile program, these efforts represent a significant confidence-building measure on the part of North Korea," Joseph S. Bermudez Jr. wrote in an analysis of the findings. He called the move "an important first step towards fulfilling a commitment" that Kim Jong Un made last month during his summit with U.S. President Donald Trump.
The Sohae site has been watched closely since Trump told reporters on June 12 that Kim had agreed to destroy "a major missile-engine testing site" that the president didn't identify. Trump presented the decision while arguing that the two leaders had reached a deeper understanding than Kim's formal, but vaguely worded pledge to "work toward complete denuclearization of the Korean Peninsula."
The report comes amid signs of disagreement between the U.S. and North Korean over the pace, sequence and potential outcomes of nuclear talks. The Washington Post cited the lack of progress in dismantling facilities in a story Sunday that said Trump had privately expressed frustration with the speed of negotiations.
The president later dismissed the report, which was based on unidentified White House aides and State Department officials, as "Fake News." "Wrong, very happy!" he said in a tweet.
Dismantling the Sohae facility is consistent with plans Kim announced April 20 to halt all atomic bomb and ICBM tests, which he described as no longer necessary after building a nuclear arsenal. Although the regime has also demolished a facility used for all six of the country's atomic bomb detonations, Kim has so far made no commitment to unilaterally disarm and reports show that he might be expanding weapons production.
Still, dismantling the Sohae site was a positive sign, said 38 North Director Joel S. Wit, a former State Department official who has participated in negotiations with North Korea.
"Pretty surprising -- may mean DPRK willing to give up its space launch program (suspected was cover for developing ICBMs)," Wit tweeted, referring to North Korea's formal name. "Only 1 step in the right direction but an important one."