Deadlock with EU Frees Mercosur to Pursue Other Trade Deals
(Bloomberg) -- Mercosur should continue negotiating with the European Union at the same time as it seeks other trade deals with countries such as South Korea and Canada, according to Uruguay's President Tabare Vazquez.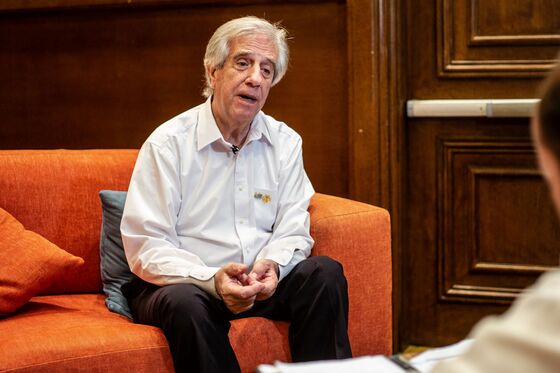 "Uruguay has bet a lot on market opening and international insertion and we are working from within Mercosur with the same idea," Vazquez said in an interview during a summit of Mercosur and Pacific Alliance leaders in Puerto Vallarta, Mexico.
The Puerto Vallarta summit sends a "strong political message" that the two Latin American blocs are committed to seeking a trade agreement, Vazquez said. Uruguay, Argentina, Brazil and Paraguay make up the members of Mercosur while the Pacific Alliance consists of Mexico, Chile, Colombia and Peru, the historically more open economies of Latin America along the region's west coast.
Mercosur has struggled to sign trade deals with other major economies since its creation in the early 1990s. After more than two decades of on-off talks, Mercosur and the EU are still far apart in key areas such as farm goods and automobiles. While French and Argentine ministers voiced optimism that a deal could still be reached this year, people directly involved in talks are more pessimistic after a series of failed negotiating rounds this year.
At the same time, Uruguay, which assumed the rotating presidency of Mercosur in June, is pushing fellow members to negotiate a trade agreement with the bloc's biggest trading partner, China.
"Mercosur and China have only recently started conversations. China is prepared to strike a free trade agreement, but the different problems or concerns of Mercosur countries have to be taken into account," Vazquez said.
The international consensus built around free trade in recent decades has come under attack by its former champion, the U.S., with President Donald Trump slapping tariffs on goods from China, the EU and even Nafta partners. The IMF and investors have warned that a U.S. instigated trade war could jeopardize global growth and the stability of financial markets.
"Unfortunately, the decisions the U.S. government have taken recently generate a lot of volatility and confusion. And something that is very much at odds with economic progress, which is uncertainty," Vazquez's finance minister, Danilo Astori, said in the same interview.
Uruguay needs to take advantage of the uncertainty created by U.S. protectionism to boost its agriculture exports, Astori said. The country is a global exporter of beef, soy, rice and increasingly wood pulp.
Economists and the government expect Uruguay to grow 2.5 percent in 2018, its 16th consecutive year of growth.
Early signs of a recovery in business investment and the construction sector as well as expectations of a rebound in farm output underpin the government's 3.3 percent growth forecast for next year, Astori said.
The economy is also set to get a major boost from 2021 if Finland's UPM builds a second pulp mill in Uruguay. Vazquez expects UPM to announce as soon as next March its decision to proceed with construction of a mill that requires investment of at least $4 billion.
"The company is showing the world that investments in Uruguay are profitable and that those who invest also reinvest. Our rate of reinvestment of foreign investment is around 60 percent," he said.