Lockheed Hoists Cash Outlook Despite $2 Billion Pension Infusion
(Bloomberg) -- Lockheed Martin Corp. boosted its cash forecast for the year, signaling that growing sales and profitability from its F-35 Lightning II fighter jet will cushion the blow from larger pension contributions.
Cash from operations will be at least $3.3 billion for the year, a 10 percent increase from the previous forecast, Lockheed said in a statement Tuesday as it reported earnings that exceeded analysts' expectations. The world's largest defense contractor also boosted its profit and revenue outlook for the year.
Like its defense peers, Lockheed is benefiting from rising sales as geopolitical tensions escalate and U.S. lawmakers remove caps on military spending. That's helping ease the burden from the company's plan to plow more than $5 billion into its pensions this year -- a goal that had raised questions about whether the revenue bonanza would translate into cash gains and shareholder returns.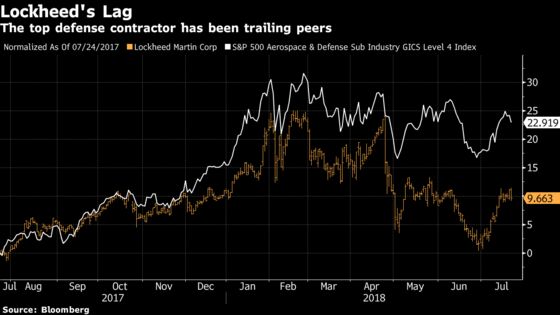 The earnings beat combined with the raised forecast for profit and cashflow "should provide reassurance to investors that the defense up-swing is very much on track," Robert Stallard, an analyst with Vertical Research Partners said in a note to clients.
The shares climbed 2.7 percent to $327 before the start of regular trading in New York. Lockheed dipped less than 1 percent this year through Monday, while a Standard & Poor's index of aerospace and defense companies advanced 6.4 percent.
Adjusted earnings climbed to $4.05 a share in the second quarter, exceeding the $3.92 average of analyst estimates compiled by Bloomberg. The quarter included a 26-cent restructuring charge for workforce reductions and a consolidation of operations at the business division that makes Sikorsky helicopters. Revenue rose 6.6 percent to $13.4 billion, compared with the $12.7 billion expected by Wall Street.
"Although Lockheed beating consensus for the quarter is hardly a novel experience, to do this despite the 26 cents of restructuring is an impressive performance," Stallard said.
However, the world's largest defense contractor consumed $72 million in cash for operations, after generating $1.54 billion a year earlier. After signaling earlier that it intended to bolster employee pension plans this year, Lockheed followed through with a $2 billion contribution in the quarter. The company made no contributions a year earlier.
As the first U.S. defense contractor to report earnings, Lockheed is expected to set the stage for peers such as Boeing Co., Raytheon Co. and General Dynamics Corp. The defense primes are poised to benefit as Congress increases outlays, and rising threats from Russia and China boost the need for cutting-edge technology, from hypersonic missiles to nuclear defense.
Lockheed is starting to reap the benefits of its $9 billion takeover of Sikorsky Aircraft in 2015, particularly as it begins delivering the first heavy-lift CH-53K King Stallion helicopters to the U.S. government. That's potentially a $31 billion program.
But shares of the Bethesda, Maryland-based company have been hobbled by lingering issues with the F-35, the Pentagon's most-expensive weapons system and the first fighter designed to serve all three branches of the U.S. military. The Trump Administration has signaled frustration over glitches that have left the program years behind schedule.
The Pentagon and Lockheed have been hammering out terms for the 11th batch of F-35s, as well as a larger block buy for 440 of the aircraft. The Joint Strike Fighter, as the plane is also called, accounted for 25 percent of Lockheed's sales last year and is expected to be the company's main source of growth as production increases to about 160 aircraft a year by the early 2020s.
Net sales in the company's aeronautics division, which includes the stealth fighter, rose 8.1 percent to $5.32 billion from a year earlier. However, the operating margin dipped to 10.7 percent from 11.5 percent a year earlier.