Trump's EU Jab May Hit Home as Juncker Goes to Washington
(Bloomberg) -- The last time Donald Trump met European Commission President Jean-Claude Juncker he called the Luxembourger "a brutal killer."
Recounting the incident to Bavaria's regional parliament a few days afterward, Juncker said he thought it had been meant as a compliment, "but I'm not so sure."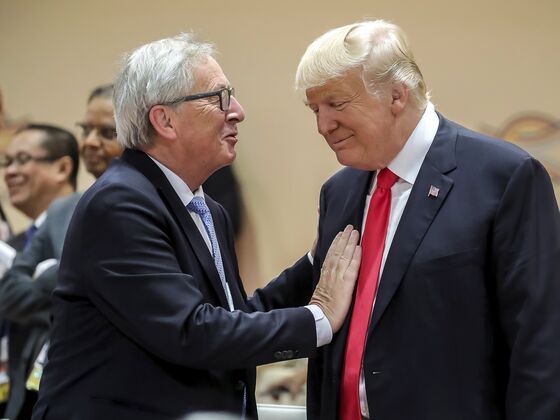 The exchange could apply to Trump's relationship with the European Union as a whole, a point probably not lost on Juncker as he arrives in Washington for talks on Wednesday intended to head off a trade war.
The EU embodies much of what Trump's "America First" world view opposes: It is multilateral in its essence, and probably the most ambitious sovereignty-pooling experiment the world has seen. Few personify that more than Juncker, who as prime minister of his native country was an enthusiastic signatory of the 1991 Maastricht Treaty, laying the foundations for the European Central Bank and the euro.
Juncker, who heads the EU'S executive body, will be seeking "to de-escalate the present situation and prevent it from worsening," according to Cecilia Malmstrom, the European Union trade commissioner who will accompany him. Speaking last week at the German Marshall Fund of the United States, a research institute, she said Juncker would try to persuade Trump that his threat to raise tariffs on European car imports would jeopardize a $1 trillion dollar trade relationship and 15 million jobs on both sides of the Atlantic.
They have their work cut out for them.
"Tariffs are the greatest! Either a country which has treated the United States unfairly on Trade negotiates a fair deal, or it gets hit with Tariffs. It's as simple as that -- and everybody's talking! Remember, we are the "piggy bank" that's being robbed. All will be Great!" Trump tweeted on Tuesday.
Trump's complaints don't end with trade, where the EU runs a $150 billion surplus with the U.S. He's also taken the bloc to task over security and competition policy, and he doesn't hesitate to conflate all those concerns. That approach is fueling fears in Europe that it isn't just about the details, and that when the U.S. president recently said he saw the EU as "a foe," he meant it.
The only logic to be found in the Trump administration's approach to Europe is that "it aims to prevent the European Union from positioning itself as a third player in a U.S.-China-Europe game," Jean Pisani-Ferry, a former adviser on the economy to French President Emmanuel Macron, concluded in an article for the French newspaper Les Echos this month.
The EU, said Pisani-Ferry, is inherently bound to the rules-based international order that Trump is trying to replace with a purely transactional one, in which the U.S. can exercise its advantages of strength without constraint. To Trump, he wrote, the EU itself "is an obstacle."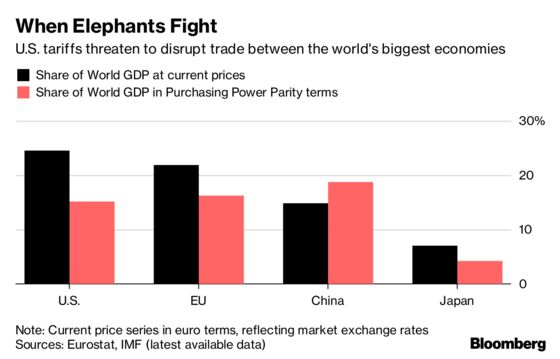 The list of challenges to the transatlantic relationship certainly has been piling up.
Apart from a budding trade war, there are the Commission's antitrust actions against U.S. tech giants, most recently a record 4.3 billion euro ($5 billion) fine against Google for abusing its dominant position with mobile apps. "I told you so!" Trump said in a tweet about the Google case. "They truly have taken advantage of the U.S., but not for long!"
Then there's the inadequate defense spending by many EU allies, over which Trump recently rattled NATO; his opposition to the planned Russia-to-Germany Nord Stream 2 natural-gas pipeline; and his decision to pull the U.S. out of the Paris climate change accords and the Iran nuclear deal, both of which the EU is trying to save.
Last week, Trump added a new complaint: currency manipulation. "China, the European Union and others have been manipulating their currencies and interest rates lower," he said in a tweet. "As usual, not a level playing field..."
The U.S. has already imposed tariffs on European steel and aluminum. That prompted counter-tariffs from the EU on such emblematically American goods as Harley Davidson motorcycles.
The 20 percent car tariff under consideration would represent a significant escalation, affecting $50 billion of EU exports. But Juncker's options for resolving the conflict are limited.
The EU leader comes armed with a proposal for talks on a "plutilateral" trade deal among major car exporters, but it doesn't even have the support of all EU governments. Treasury Secretary Steven Mnuchin said at a meeting of the G20 in Buenos Aires on Saturday that the U.S. was open to a free-trade deal with allies, so long as it includes sensitive issues such as state subsidies. French Finance Minister Bruno Le Maire said he would negotiate nothing "with a gun to our head," a reference to the U.S. tariff threats.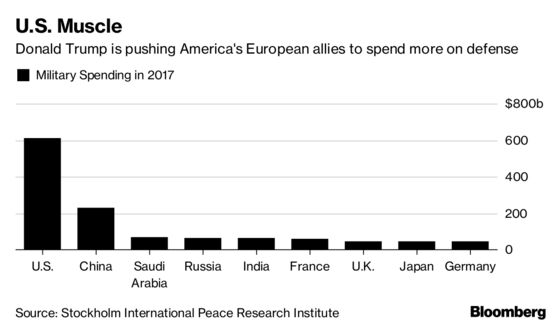 Trump's package-deal approach to diplomacy is designed to create leverage, taking "extreme positions to occupy a position of strength," said Simon Fraser, formerly Britain's top career diplomat and now a managing partner at Flint Global, a consulting firm. "But this isn't North Korea or Iran; the U.S.-European relationship is far more complex and I'm not sure he fully understands that or cares about the damage he can do. It is very dangerous."
As if to show how the EU thinks tariff issues ought to be handled, the bloc signed a trade deal with Japan on July 17 that would eliminate tariff and non-tariff barriers from 90 percent of products they trade, including automobiles.
That's no substitute for the U.S. market. The U.S. share of goods exports from the euro region is six times as high as Japan's.
Asked to comment on the alleged "brutal killer" exchange, the White House said Trump considers Juncker "a tough negotiator." And in theory, he should have a strong case to make with the president. Unlike for steel and aluminum, Trump's proposal for higher tariffs on car imports is opposed by the American industry, which fears they would be self-harming.
But a research note last week from the consulting firm Oxford Economics concluded that Trump was unlikely to compromise because, with nationalist governments on the rise within the EU too, he would prefer to exploit those divisions rather than cut a deal. Italy has already threatened not to ratify the free-trade accord the EU signed with Canada in 2016, for example, meaning the new agreement with Japan isn't a shoo-in either, the note said.
Juncker's first task will be damage limitation, but the EU also has to fight back, according to Maria Demertzis, deputy director of Bruegel, a Brussels-based think tank. That, she added, can be done by strengthening the international order that the U.S. helped to build over the last 70 years, and that Trump has now put in question.
"The system of alliances, institutions and rules that are threatened will take generations to rebuild if they are destroyed," Demertzis said. "Trump complicates everything."