Foreigners Are Missing Asia's Best Stock Story This Month
(Bloomberg) -- Foreign investors are missing out on Asia's top stock-market returns this month.
International traders have withdrawn more than $435 million from Thailand's equity funds in July, just as the benchmark SET Index has rebounded 4.9 percent, heading for its best monthly performance in two years. It's the first time the equity measure has gained this much in a month with foreign outflows of such magnitude, according to data compiled by Bloomberg dating back to 1999.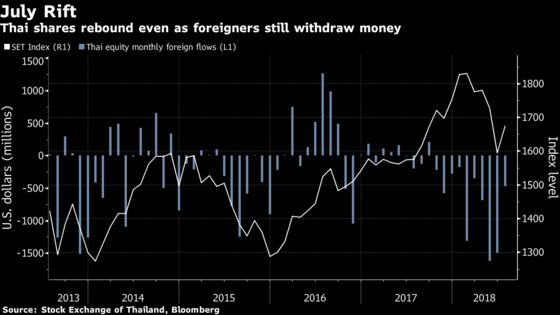 Fears of a trade war, Federal Reserve tightening and a stronger U.S. dollar have sparked a foreign exodus from emerging markets such as Thailand. But Manulife Asset Management Ltd. says the optimism that has already reached domestic traders will soon return as the outlook for Southeast Asia's second-biggest economy improves and corporate profits grow.
"There are positive signs that foreign sales of Thai equities are slowing, while some international funds have begun reinvesting," said Jintana Mekintharanggur, the Bangkok-based director of equities at Manulife, which oversees about $394 billion globally. "Thailand's strong economic fundamentals and attractive valuations should appeal to some foreign investors once anxiety over the tariff dispute and dollar strength dissipate."
While Thai individuals and funds have returned to the stock market after two months of declines, the international withdrawals have worsened to $6.1 billion this year. Those are no reason for concern as Thailand's "sound" economic fundamentals and corporate-earnings growth will attract domestic investors, Pakorn Peetathawatchai, president of the Stock Exchange of Thailand, said earlier this month.
"Corporate earnings are still showing very strong growth, while domestic investors still hold ample surplus funds," said Saengchan Lee, a Bangkok-based equity fund manager at Krungthai Asset Management Co., which has about $21 billion of assets. The key stock index may rise 9.9 percent to a record of 1,840 later this year on optimism that risks to the Thai and global economy will subside, she said.
Saengchan plans to focus on shares of domestic companies that will benefit from a recovery in consumer spending and government-infrastructure investments, which have already helped boost growth to a five-year high of 4.8 percent in the first quarter. The Bank of Thailand raised its 2018 expansion forecast to 4.4 percent in June from 4.1 percent, pointing to stronger exports and tourism revenue, along with improving private demand.
Prime Minister Prayuth Chan-Ocha, who seized power in a 2014 military coup, has prioritized infrastructure projects to drive the economy and create jobs. He is also seeking Chinese investment to help galvanize a five-year, 1.7 trillion baht ($44 billion) development plan for the country's eastern seaboard.
The SET Index's valuation has rebounded to 14.6 times estimated earnings for the next year, around its three-year average, data compiled by Bloomberg show. The multiple dropped to a low of 13.9 on June 29, prompting some local funds and analysts to say the dip was a buying opportunity.
While Bualuang Securities Pcl's Chaiyaporn Nompitakcharoen remains optimistic about Thailand's prospects, the deputy managing director has a word of caution: any stock rally would be limited by trade conflict and U.S. dollar strength.
"We are confident in Thailand's economic fundamentals and domestic companies' earnings outlook," said Chaiyaporn. His firm is a brokerage arm of Thailand's biggest bank by assets. "Still, a full-fledged tariff war would be greatly disruptive and hurt global trade and economic growth."