China's $9 Billion Plan to Boost 5G Undermined By Trade War
(Bloomberg) -- A company that's a key part of China's ambitions to be a leader in cutting-edge wireless technology is preparing to go public to fund its expansion, but President Donald Trump's trade war threatens to put a damper on what could be the world's biggest initial public offering in almost four years.
State-controlled China Tower Corp., which operates almost 99 percent of the country's wireless towers and charges its three carriers leasing fees, is preparing to raise as much as $8.7 billion in a Hong Kong IPO expected to start trading next month. That would be the biggest IPO since Alibaba Group Holding Ltd.'s 2014 offering.
The proceeds could help President Xi Jinping approach his goal for China to be a pioneer in fifth-generation wireless networks, which promise to send data fast enough for self-driving cars or to download feature-length movies in seconds. Communications technology is also part of Xi's ambitious Made in China 2025 program to make the country a leader in a range of key industries.
However, the series of tariffs and retaliatory moves by the U.S. and China make this an especially risky time to go to market, with worries about a trade war contributing to a 14 percent drop in the benchmark Hang Seng index since its record high in late January.
"The trade war weighs on the market sentiment, which then weighs on the prospect for China Tower's IPO," said Steven Liu, an analyst at China Securities International in Hong Kong.
Hurt by stock volatility and trade tensions, Chinese phone maker Xiaomi Corp. sold shares at the low end of a marketed range in its $5.4 billion Hong Kong IPO earlier this year.
The trade war could also hurt China Tower's ability to tout its role in Xi's long-term tech strategy, said Bloomberg Intelligence analyst Denise Wong.
"Going around marketing 5G and China 2025 at this time might be a little sensitive," she said. "It just gets on the nerves of the U.S."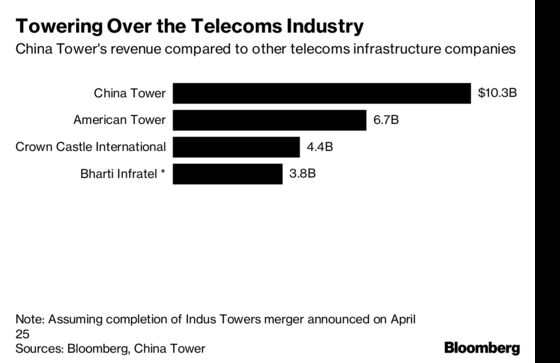 The trade war has sparked public discussion in China about cutting dependence on critical U.S. technology given the trade restrictions the U.S. could impose, said Dora Wang, a Shanghai-based partner at law firm Morgan, Lewis & Bockius LLP, who advises Chinese and multinational corporations on technology and other issues.
"The importance of China's 5G build-up cannot be understated as it is critical for developing the necessary technological ecosystem that supports smart city initiatives and shapes the next generation of wireless connectivity," she said.
China Tower is offering 43.1 billion shares at HK$1.26 to HK$1.58 each and the stock is expected to begin trading Aug. 8, according to terms for the deal obtained by Bloomberg this week. The company declined to comment for this story.
China's 5G plans could also be affected if the Trump administration decides to limit exports of U.S. chipsets, software and optical components while also curbing patent licensing, according to Edison Lee, an analyst at Jefferies Hong Kong Ltd., who said he remains hopeful the two sides will avoid a worst-case scenario.
ZTE Corp., the giant producer of telecom equipment and phones, helps illustrate the potential risks to Chinese companies who run into trouble with the U.S. government.
ZTE's business nearly ground to a halt after the the U.S. Commerce Department in April banned it from buying American technology for seven years for selling products to Iran and North Korea. In July, the U.S. formally lifted ZTE's suspension, but the Chinese company's penalties included a fine of at least $1 billion.
In 2014, tower assets originally owned by state-backed telecom operators China Mobile Communications Group Co., China United Network Communications Corp., and China Telecommunications Corp. were spun off to create China Tower, which became the world's largest tower service.
China Tower helps operators avoid the sort of spending and competition that occur in a less government-directed economy by putting radio transmitters from multiple carriers on a single tower.
"China Tower's role is to make sure there is no duplication and to focus resources and manpower, allowing for a rapid roll-out of 5G coverage across the country," Singapore-based BMI Research analyst Kenny Liew said in an e-mail.
China Tower initially targeted a listing by the end of 2017, but pushed back the plan after reporting mounting losses. Then, just as China Tower filed for an IPO in May, trade tensions ratcheted up between U.S. and China.
China has much riding on 5G. By 2020, China's three state carriers are expected to spend a total 220 billion yuan ($32 billion) on the 5G network buildout, according to the China Academy of Information and Communications Technology. The carriers are targeting commercial use of 5G by that year.
China Tower, which has attracted Hillhouse Capital and a unit of Alibaba Group Holding Ltd. as investors, could have a valuation of about $35 billion, according to terms for the deal obtained by Bloomberg.
Proceeds from the China Tower IPO could help its shareholders, the three cellular operators, cover some of the costs associated with that 5G rollout, said Bloomberg's Wong.
And their investment plans will lead to the world's biggest 5G network in China, according to a report by New Street Research analyst Chris Hoare published by Smartkarma. He forecasts the company will have 2.4 million towers by 2022. The company reported having 1.9 million radio towers last year.
As Chinese spending on 5G peaks during 2021 and 2022, China Tower's revenue and earnings before interest, tax, depreciation and amortization could grow about 13 to 14 percent annually, Hoare said. But returns will be sub-optimal because the government will want China Tower to give favorable terms to mobile operators, he said.
"It is a tool of Chinese government policy," Hoare wrote.