AT&T Shares Sink to Six-Year Low on Flagging Wireless Growth
(Bloomberg) -- AT&T Inc., fresh off its $85 billion purchase of Time Warner Inc., wants to be known as a modern media company. Investors still need convincing.
The stock fell as much as 4 percent Wednesday to the lowest in more than six years after the phone giant added fewer wireless customers than expected last quarter, a sign its main moneymaker remains sluggish. The miss underscored the importance of integrating Time Warner services like HBO and CNN into AT&T's mobile and pay-TV strategy.
"We haven't learned enough about media yet to have a strong view on whether this is the winning collection of assets, but even if we give AT&T the benefit of the doubt and assume that it is, the issue will be execution," Jonathan Chaplin, an analyst with New Street Research LLC who rates the stock neutral, wrote in a note. "AT&T's existing businesses are all struggling."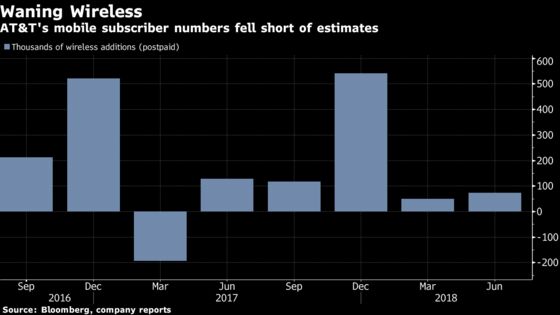 AT&T bought Time Warner, the owner of TBS and the Warner Bros. studios, to diversify its business, fuel growth in wireless customers and stem the loss of pay-TV subscribers -- particularly to new rivals like Netflix. The largest U.S. pay-TV provider, AT&T gained 79,000 video subscribers in the quarter, compared with a loss predicted by analysts. DirecTV Now, the company's online service, reached 1.8 million customers.
With the new businesses, the company aims to deliver a slate of video programming to millions of online viewers -- at home and on the go. The addition of Time Warner movies, TV shows and pay-TV networks will boost AT&T's annual revenue by as much as 20 percent, while increasing net debt by 58 percent to $180.4 billion.
AT&T's Time Warner acquisition was a long time coming. The carrier announced the deal almost two years ago, but it was fought by antitrust enforcers.
"It was clear back in 2016 when we actually did this deal that scale was important and the distribution model was changing," Chief Executive officer Randall Stephenson said on a call with investors after the company announced second-quarter results late Tuesday.
AT&T completed the purchase on June 14. Financial results from the acquired businesses included subscription growth at both HBO and Turner, which operates CNN, TNT and other channels, a 3 percent increase in ad revenue, and a record number of TV series in production at Warner Bros.
"Time Warner had the scale in terms of advertising inventory at cable networks, it had the scale position in terms of content creation with Warner Brothers, it was just the obvious partner for us," Stephenson said.
The phone giant added 73,000 new wireless customers in the second quarter, missing the 83,300 projected by analysts. Shares of Dallas-based AT&T fell to as low as $30.40, the lowest intraday price since April 2012, in New York trading. It's down 19 percent this year through Tuesday's close.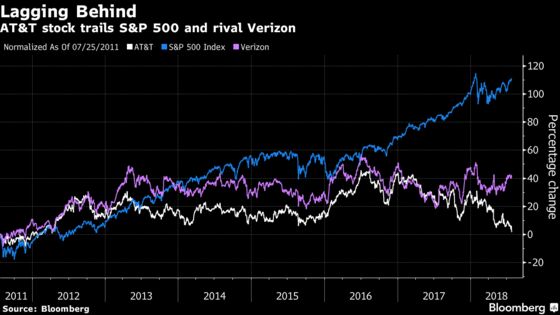 Owning and distributing shows like "Game of Thrones" will give AT&T the ability to sell different types of video and wireless-service bundles, and generate revenue from advertising, including digital, company executives have said.
AT&T completed the takeover last month and renamed the business WarnerMedia. But the U.S. Justice Department is appealing a judge's ruling that allowed the deal to go through. Regulators contend that the combination of a media company and a content distributor like AT&T, which acquired DirecTV in 2015, will lead to higher prices.
Earnings for quarter rose to 91 cents a share, excluding some items, beating analysts' estimates of 84 cents. Revenue fell 2 percent from a year earlier, to $39 billion, and also missed analysts' projections of $39.6 billion.
For the year, the company said it expects profit at the high end of the $3.50-a-share range, with capital spending earmarked at around $25 billion. Analysts were forecasting $3.44 a share, the average of Bloomberg estimates.