'Dangerous Heat' Sends California Gas Prices to 10-Year High
(Bloomberg) -- Natural gas prices in Southern California surged to the highest in almost a decade as blistering heat kept air conditioners on full blast, stoking demand for the power-plant fuel.
Gas in the region more than tripled Monday to $39.64 per million British thermal units, a record in Bloomberg data going back to 2008. Power prices also jumped. "Dangerous heat" will descend across Southern California through July 26, with temperatures above 90 degrees Fahrenheit (32 Celsius) in Los Angeles and approaching 110 degrees in the desert, according to the National Weather Service.
"We expected a rally, but nowhere near that big," Rick Margolin, an analyst with Genscape Inc., said in an email Tuesday.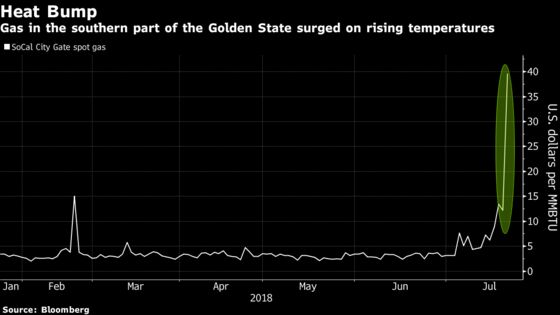 Low hydroelectric generation amid dry conditions has also contributed to the price spike, boosting power plants' gas burn. Meanwhile, gas inventories remain well below normal nationwide after a frosty spring, and pipeline maintenance has kept some supply from reaching the market.
The heat is so intense that California is even pulling liquefied natural gas from the Costa Azul import terminal on Mexico's West Coast, Margolin said. Restricted access to the Aliso Canyon storage facility after a 2015 leak is also making it difficult to meet demand, he said.
Gas exports to Mexico from the U.S. Southwest, meanwhile, slid after a pipeline compressor station was shut down for repairs. The amount of gas flowing from the region across the border sank 25 percent Tuesday after Kinder Morgan Inc.'s El Paso Natural Gas line reported a mechanical failure at a compressor station in Arizona.