U.K. Should Use Weak Pound to Aid Manufacturers, Corbyn Says
(Bloomberg) -- Jeremy Corbyn, leader of the U.K.'s opposition Labour Party, pledged to help exporters take advantage of the pound's weakness and use government buying power to support British manufacturing if he wins power.
Speaking to the EEF manufacturers' lobby group on Tuesday, Corbyn said that Prime Minister Theresa May's government and its predecessors have neglected manufacturing in favor of "kowtowing" to London's financial services sector. Poor government planning means companies are missing out on Brexit's opportunities, he said.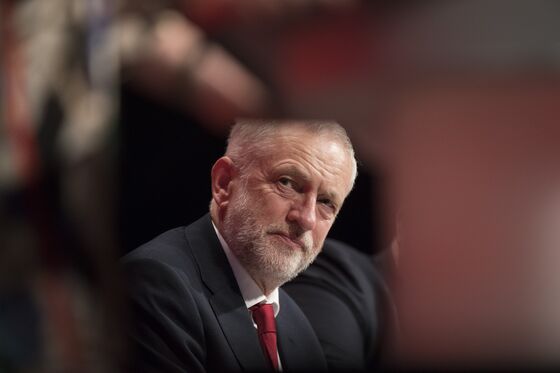 "Our exporters should be able to take proper advantage of the one benefit to them that Brexit has already brought -- a more competitive pound," Corbyn told the meeting in Birmingham, central England. "After the EU referendum result, the pound became more competitive and that should have helped our exporters. But they are being sold out by a lack of a Conservative government industrial plan, which has left our economy far too reliant on imports."
Read more: U.K. Net Trade Should Benefit From Buoyant External Demand
The Labour leader, who wants to force an early general election before the next scheduled date of 2022, is seeking to draw lines between his and May's proposals for the U.K. economy as Britain prepares to leave the European Union in March next year. Tariff-free access to the bloc will be crucial to helping companies including BMW AG and Airbus SE employ thousands of workers in Britain, Corbyn said.
"A lack of support for manufacturing is sucking the dynamism out of our economy, pay from the pockets of our workers and any hope of secure well-paid jobs from a generation of our young people," Corbyn said. "We will build things here again that for too long have been built abroad because we have failed to invest."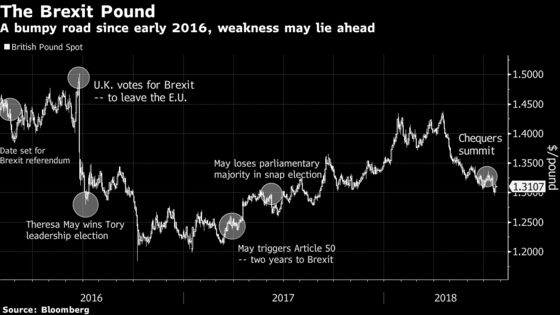 Contracts for rail carriages, health equipment and defense hardware have been given to overseas companies at the expense of their British competitors, Corbyn said. "We will use the huge weight of the government's purchasing power to support our workers and industries," he told delegates.
"For the last 40 years, a magical kind of thinking has dominated the way Britain is run," he said. "We've been told that it's good -- advanced even -- for our country to manufacture less and less and instead rely on cheap labor from abroad to produce imports, while we focus on the City of London and the finance sector."
Corbyn urged May to "reconsider the option of negotiating a brand new customs union" with the EU, an option that was defeated in a tight Parliamentary vote last week.
May needed the votes of four lawmakers from Corbyn's Labour Party to stop an amendment that could have meant Britain staying in a customs union with the EU after leaving the bloc. The four Labour rebels said afterward that they had come under "zero pressure" from Corbyn's team to back the measure.
Even so, Corbyn pressed the prime minister to change course in his speech on Tuesday.
"Theresa May and her warring cabinet should think again, even at this late stage, and reconsider the option of negotiating a brand new customs union," Corbyn said. "This decision doesn't need to be a matter of ideology, or a result of divisions in the Tory Party. It's a matter of practical common sense."
Robert Jenrick, Exchequer Secretary to the Treasury and a lawmaker for May's Conservative Party, dismissed Corbyn's comments and said Labour cannot be trusted to run the U.K. economy.
"The greatest risk to jobs and investment is a Labour government led by Jeremy Corbyn and John McDonnell," Jenrick said in a statement. "Their plan would mean higher prices for families and lower wages for workers."