Trump's Iran Threats Pull From Playbook He Used for North Korea
(Bloomberg) -- Donald Trump's late-night tweet warning of dire consequences if Iran threatens the U.S. highlighted the administration's confidence in a strategy the president credits with bringing North Korea to the negotiating table -- a move he boasted is already paying dividends.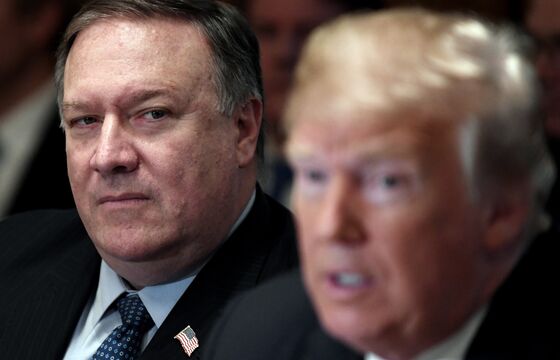 In an all-caps tweet on Sunday directed at President Hassan Rouhani, Trump said the U.S. won't tolerate Iran's "DEMENTED WORDS OF VIOLENCE & DEATH" -- a response to a warning that Iran's leader made to Trump. The tweet followed a speech by Secretary of State Michael Pompeo labeling Iranian leaders "hypocritical holy men" and calling out many by name for alleged corruption.
The stepped-up pressure comes about three months before U.S. sanctions snap back against countries that continue importing Iranian oil. U.S. officials reject suggestions that even close U.S. allies will end up getting broad exemptions to sanctions, saying governments must show they are significantly cutting crude imports to avoid penalties. In that way, Trump's tweet to Rouhani was also directed at reluctant U.S. allies in Europe and Asia.
Behind that effort, according to administration officials and analysts, is Trump's desire to goad Iran, which has seen repeated public protests over corruption and slow economic growth, back to the negotiating table to hammer out a new, more comprehensive deal to replace the nuclear accord the U.S. withdrew from in May.
"The idea is to build up leverage and then explore opportunities to use that leverage," said Mark Dubowitz, the chief executive of the Washington-based Foundation for Defense of Democracies who has advised Pompeo. "The more the regime is being destabilized, the more leverage they have and the better the likelihood of a comprehensive deal on U.S. terms."
It may be working: Earlier this month, officials from the remaining parties to the nuclear deal met in Vienna to look for ways to ensure Iran still gets the benefits it's seeking from the accord despite the U.S. threats. Iranian Foreign Minister Mohammad Javad Zarif called for "practical solutions" rather than "obscure promises." But world powers weren't able to offer concrete proposals, and diplomats have warned there may be little they can do.
It's no coincidence the administration is relying on the aggressive language that echoes Trump's approach to North Korea. Last year, Trump escalated his rhetoric, threatening "fire and fury" against the regime of Kim Jong Un and provoking fears of a military conflict that eased when the two leaders agreed to a historic summit. Trump has since claimed victory for defusing tensions.
"He's used this kind of tactic before with North Korea, he sees it as having succeeded and advantaged him," said Suzanne Maloney, deputy director of the foreign policy program at the Brookings Institution.
Trump and his top advisers, including Pompeo and son-in-law Jared Kushner, believe that the tough rhetoric against North Korea, coupled with the harsher sanctions regime, played a key role in what they say is Kim's willingness to give up his nuclear weapons. And despite few details, no timetable for denuclearizing North Korea and few signs of progress since the Trump-Kim meeting, the president has publicly maintained that his approach has paid off.
"A Rocket has not been launched by North Korea in 9 months," Trump tweeted on Monday morning. "Likewise, no Nuclear Tests. Japan is happy, all of Asia is happy."
But unlike isolated North Korea, whose nuclear program unified international opinion and led to tough United Nations Security Council sanctions backed by China and Russia, many countries do business with Iran and Trump's decision to quit the nuclear deal is still broadly criticized.
Another challenge Trump faces with Iran is that his own advisers seem dubious about the possibility of reaching a deal. In his own comments, Pompeo appealed directly to Iran's people and repeatedly called on Tehran to stop its support for terrorism and become a "normal" country. He said Iran must make changes "that I don't see happening today, but I live in hope."
The proximate reason for Trump's tweet were remarks by Rouhani. America "must understand well that peace with Iran is the mother of all peace and war with Iran is the mother of all wars," the Iranian president said in a speech in Tehran on Sunday. As Iran has done in the past, Rouhani warned that Iran may be willing to disrupt oil passing through the Strait of Hormuz.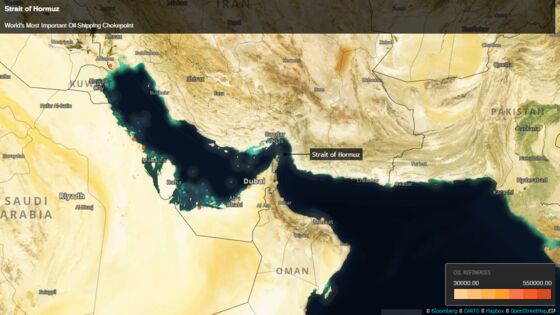 The Middle East's biggest oil exporters rely on the Strait of Hormuz, the passage linking the Persian Gulf with global waterways, for the vast majority of their crude shipments -- some 17.5 million barrels a day. If the passageway were closed, pipeline networks could export less than a quarter of the total, according to data compiled by Bloomberg.
"He's angry" in the wake of the U.S. decision to quit the nuclear deal he championed, Fouad Izadi, a professor of American studies at the University of Tehran, said of Rouhani. "He's put a lot of his own prestige on the line and it's not his fault that it's not working and that Trump decided to leave the nuclear agreement. So he was sending a signal that he's not the same Rouhani that he was a couple of years ago."
Trump responded with anger of his own.
In his Twitter post late Sunday, Trump said, "To Iranian President Rouhani: NEVER, EVER THREATEN THE UNITED STATES AGAIN OR YOU WILL SUFFER CONSEQUENCES THE LIKES OF WHICH FEW THROUGHOUT HISTORY HAVE EVER SUFFERED BEFORE. WE ARE NO LONGER A COUNTRY THAT WILL STAND FOR YOUR DEMENTED WORDS OF VIOLENCE & DEATH. BE CAUTIOUS!"
Asked about the president's tweet on Monday, White House spokeswoman Sarah Huckabee Sanders said Trump is "going to continue to focus on the safety and security of the American people." She said Trump's ultimate goal is keeping nuclear weapons out of the hands of Iran's leaders.
Zarif, the Iranian foreign minister, tweeted back at Trump on Monday, scoffing in kind: "COLOR US UNIMPRESSED: The world heard even harsher bluster a few months ago. And Iranians have heard them -- albeit more civilized ones -- for 40 yrs. We've been around for millennia & seen fall of empires, incl our own, which lasted more than the life of some countries. BE CAUTIOUS!"
Just a few hours before Trump's Sunday evening tweet, Pompeo personalized the administration's focus on Iran, calling out by name the head of Iran's judiciary, the minister of the interior and Ayatollah Ali Khamenei himself, stopping just short of a plea for regime change.
"These hypocritical holy men have devised all kinds of crooked schemes to become some of the wealthiest men on Earth while their people suffer," Pompeo said.
In a statement on Monday, National Security Adviser John Bolton sought to portray Trump's tweet as part of a broader, premeditated campaign to counter any acts of aggression by Iran, rather than threatening rhetoric alone. In his past role as a Fox News commentator and conservative scholar, Bolton openly advocated for military strikes against Iran and overthrow of the regime.
"I spoke to the President over the last several days, and President Trump told me that if Iran does anything at all to the negative, they will pay a price like few countries have ever paid before," Bolton said in a statement released by the White House.