Ryanair Warns Labor Strife Is Starting to Bite as Profit Slides
(Bloomberg) -- Labor strife is starting to weigh on Ryanair Holdings Plc, and the conflict looks set to deepen.
The discount airline posted a 20 percent drop in first-quarter profit on Monday, and warned that walkouts by trade unions, along with regional air traffic-control strikes, are making customers wary of booking trips.
While the carrier was able to accommodate passengers whose flights were canceled during recent disruptions by Irish pilots, "the real impact is going to be on uncertainty in relation to the forward booking curve," Chief Financial Officer Neil Sorahan said by phone. The executive also said he's "a little bit more pessimistic on fares" than in May after they dropped in the latest reporting period.
Ryanair shares fell as much as 6.3 percent, the most in just over seven months, dragging down other European airline stocks. Deutsche Lufthansa AG and EasyJet Plc fell as much as 3 percent, and IAG SA was down 2 percent.
The Irish airline has canceled 16 flights on Tuesday ahead of looming strikes by pilots in its home market, and 600 flights Wednesday and Thursday as Spanish, Portuguese and Belgian flight attendants walk out. Germany's Vereinigung Cockpit pilot union is also holding a vote on possible strike action, with the outcome due later this month. This summer's disruptions mark the first major industrial action the budget carrier has seen, after it agreed to accept unionization in the face of a staffing crunch last year.
The carrier kept its full-year profit outlook, but said the guidance is "heavily dependent" on fares this quarter, strikes by crew and air traffic-controllers and other wild cards such as Brexit.
Fares fell 4 percent during the period ended June 30, and the pricing environment remains weak, Ryanair said in a statement. Hesitation on the part of customers to book is feeding into a drop in prices, just as fuel costs rise and the Irish carrier shells out for 20 percent pay increases already granted to pilots.
The airline said it expects further strikes over the peak summer period "as we are not prepared to concede to unreasonable demands that will compromise either our low fares or our highly efficient model." It may review its winter schedule -- shrinking fleets at bases where there's disruption -- if strikes continue to hit customer confidence.
"If there's other bases where we can make more money and we can operate more efficiently then we'll look at the allocation" of planes, Sorahan said in an interview Monday. "We've got mobile assets and these assets can be moved around quite freely." No decisions about shifting its fleet have yet been taken, he said.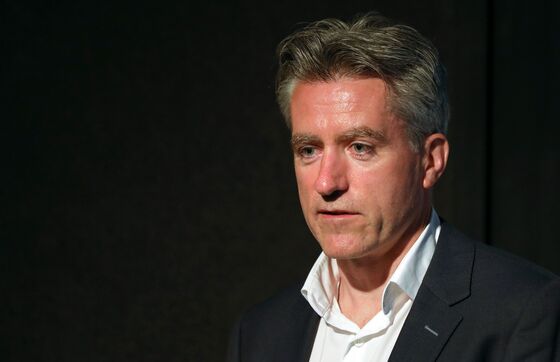 Profit after taxes fell to 319 million euros ($374 million) in the three months ended June 30. Ryanair left unchanged guidance set out in May that net income for the year ending March 2019 will decline for the first time since 2014, to a range of 1.25 billion euros to 1.35 billion euros. It said fares will rise about 1 percent in the second quarter, down from the previous target of 4 percent.
The airline is making "good progress" in its talks with unions, Sorahan told Bloomberg TV on Monday, and has coped with strikes "very very well."
First-quarter revenue rose 9 percent to 2.08 billion euros. Analysts had expected revenue of 2.04 billion euros, according to eight estimates compiled by Bloomberg. Ancillary revenue, including from passengers paying extra for priority boarding, rose 25 percent.
Higher oil prices will see "weaker, unhedged carriers" struggling and going out of business later this year, Sorahan said. "There will be opportunities to pick up bits and pieces from consolidation."
The airline said the risk of a so-called "hard Brexit" is being underestimated and reiterated a warning that the U.K.'s departure from the European Union may lead to Ryanair's U.K. shareholders losing voting rights.
Ryanair this month won EU approval to take a majority stake in the Austrian airline LaudaMotion. The Irish carrier said Monday that LaudaMotion would lose about 150 million euros in its first year but that the results will "improve substantially" to break even by the third year of operations. Ryanair had said in May that LaudaMotion will need almost 100 million euros in startup costs and operating losses over the next two years.