Papa John's Founder Said to Mount Campaign to Defend Board Seat
(Bloomberg) -- Papa John's International Inc.'s embattled founder John Schnatter plans to reach out to shareholders to rally support as he tries to avoid being banished from the company's board, according to a person familiar with the matter.
Schnatter, who resigned as chairman recently after coming under fire for using a racial slur, wants to help map the pizza chain's comeback from a sales slump and is determined to hold onto his board seat even as the company tries to distance itself from its controversial founder, according to the person who asked not to be identified because the plans are private.
Papa John's didn't immediately respond to a request for comment.
The board announced a so-called poison-pill plan on Sunday to fend off any attempt by Schnatter to gain a controlling interest in the company. The former chief executive officer, who left that role in December, is concerned that the board is planning to call a special meeting of shareholders to vote him off the board, the person said. The board can't just remove him, and the next regular shareholders' meeting isn't until next spring.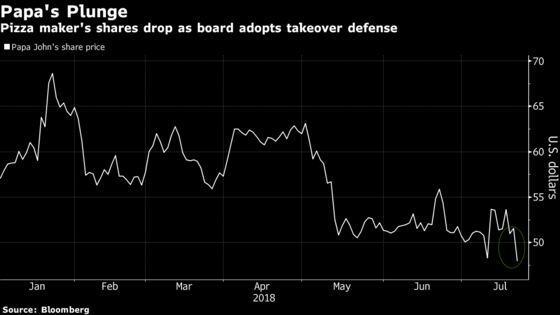 Schnatter, 56, is the company's largest shareholder, controlling about 29 percent of the stock. He resigned as chairman earlier this month after reports surfaced that he used a racial slur and graphic depictions of violence against minorities during a conference call with a media agency in May.
He admitted to using the offensive term and apologized, while saying his comments were taken out of context. The board terminated its so-called founder's agreement that designated Schnatter as the face of board and hired a law firm to oversee an investigation of its "policies and systems related to diversity and inclusion."
"John is being used as a scapegoat," said Patricia Glaser, an attorney for Schnatter. "It's unfortunate -- if you look at what's best for the company, he has some clear ideas that have been discussed for some time."
Chris O'Cull, an analyst at Stifel, downgraded the stock to sell from hold, noting that the brand damage to the company from the recent controversy could deter a "strategic savior" from mounting a takeover. Investors reacted coolly to the news of the poison pill on Monday, with the shares slumping to their lowest intraday level since February 2016.
Shares of Papa John's fell as much as 8.3 percent to $47.29 in New York, the biggest intraday decline in 2 1/2 months.
Adopting the takeover defense is the latest effort by Louisville, Kentucky-based Papa John's to loosen ties to the founder, who remains a director. Schnatter regrets resigning as chairman and believes directors mishandled the situation by pushing him out without investigating, people familiar with his thinking told Bloomberg News last week.
The board adopted a limited-duration stockholder rights plan that would become exercisable if an investor acquired 15 percent or more of Papa John's shares without the approval of directors, according to a company statement late Sunday. It also declared a dividend distribution of one right for each outstanding share.
The rights plan is intended to "protect the interests of the company and its stockholders by reducing the likelihood that any person or group gains control of Papa John's through open market accumulation or other tactics without paying an appropriate control premium," the company said.
Papa John's shares have lost more than a third of their value over the past year amid the controversies involving Schnatter, while same-store sales have fallen in recent quarters in the face of more competition from Domino's Pizza Inc. and Yum! Brands Inc.'s Pizza Hut.
A committee of directors recently terminated an agreement that designated Schnatter as the face and voice of the brand and ordered that he be evicted from the headquarters and removed from marketing materials.
Late last year, Schnatter stepped down as CEO of the pizza chain he started in his father's Indiana tavern. He quit the post after criticizing the leadership of the National Football League for mishandling protests by players that he said hurt sales. In February, Papa John's ended a longtime sponsorship of the NFL to instead focus on marketing with specific teams.
Forbes, citing 37 current and former Papa John's employees, reported last week that Schnatter spied on workers and engaged in sexually inappropriate conduct resulting in at least two confidential settlements. A representative of Schnatter said the Forbes story contains "numerous inaccuracies and misrepresentations."