Crude Oil Futures Drop Below $68 Amid Strength in the Dollar
(Bloomberg) -- Crude oil slid to the lowest level in a month, reversing an earlier trend, undercut by a stronger dollar and concerns that rising stockpiles in Oklahoma suggest pipeline bottlenecks may be worsening.
Futures in New York closed down 0.5 percent on Monday after a see-saw performance that saw prices jump as much as 1.5 percent before falling at mid-day.
Data-provider Genscape Inc. is said to show an increase in supplies at Cushing, Oklahoma for part of last week. That spurred concern that the ability to transport oil may be hampered by waning pipeline capacity. At same time, a strengthened dollar added another undermining factor.
A rise in stockpiles at Cushing "may reflect some stress in the system, especially the transportation system," said Rob Haworth, who helps oversee $151 billion at U.S. Bank Wealth Management in Seattle. "There's not a lot to push you a lot higher. Saudi Arabia and Russia are still probably going to increase production."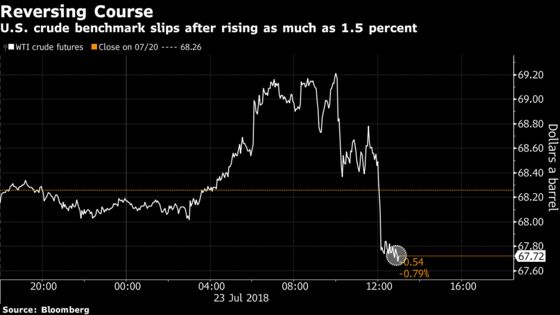 Investors remain concerned that key OPEC producer Saudi Arabia will increase output to make up for losses from countries such as Venezuela. In June, the producer pumped the most in three years. At the same time, there are fears that ongoing trade conflicts between the U.S. and China will damage economic activity and hurt demand.
"We're in the process of stabilizing," said Gene McGillian, manager of market research at Tradition Energy. "Some of the selling pressure is coming from the dollar, which has kind of picked its head up."
West Texas Intermediate crude for September delivery fell 37 cents to settle at $67.89 a barrel on the New York Mercantile Exchange. Total volume traded was about 28 percent below the 100-day average.
Brent for September settlement slid 1 cent to end the session at $73.06 a barrel on the London-based ICE Futures Europe exchange. The global benchmark crude traded at a $5.17 premium to WTI.
Front-month Brent futures closed 32 cents lower than its second-month contract, the biggest discount in almost a year for the front-month spread.
The Bloomberg Dollar Spot Index rose as much as 0.3 percent on Monday.
Meanwhile, a war of words between U.S. President Donald Trump and President Hassan Rouhani of Iran shined a spotlight on a vital oil route, the Strait of Hormuz linking the Persian Gulf with global waterways.
Rouhani warned the U.S. against threatening Iran oil exports and called for improved relations with neighbors, including rival Saudi Arabia. Trump, in a late Sunday tweet, upbraided the Iran president in a tweet that added emphasis with its all-caps format.
In the post, Trump wrote: "To Iranian President Rouhani: NEVER, EVER THREATEN THE UNITED STATES AGAIN OR YOU WILL SUFFER CONSEQUENCES THE LIKES OF WHICH FEW THROUGHOUT HISTORY HAVE EVER SUFFERED BEFORE. WE ARE NO LONGER A COUNTRY THAT WILL STAND FOR YOUR DEMENTED WORDS OF VIOLENCE & DEATH. BE CAUTIOUS!"
Gasoline futures added 1.1 percent to settle at $2.0914 a gallon, the highest level in more than a week.
The Trump administration will seek to revoke California's authority to regulate automobile greenhouse gas emissions -- including its mandate for electric car sales -- in a proposed revision of Obama-era standards, according to three people familiar with the plan.
U.S. crude stockpiles are seen dropping 3 million barrels last week, according to the median estimate of analysts surveyed by Bloomberg.
Cushing, Oklahoma crude stockpiles decreased 900,000 barrels in the week ended July 20, according to a forecast compiled by Bloomberg.