Houlihan Lokey Enters Booming Market for Risky Loan Deals
(Bloomberg) -- Count Houlihan Lokey Inc. into one of the hottest corners of the debt markets.
The U.S. investment bank said Monday that it's forming a unit to arrange and sell leveraged loan deals of as much as $1 billion as the market for the risky debt has surged. It's following firms such as Credit Suisse Group AG and Royal Bank of Canada in the business as looser regulations make it easier for banks to make these loans, and investors have been piling into the debt.
Smaller boutiques and private equity firms have been ramping up in middle-market lending since the crisis. Houlihan said in a statement that it will focus on transactions for borrowers with a measure of earnings of at least $50 million that are seeking $250 million or more in debt. Middle-market lending has become a competitive area for the so-called "shadow" lenders to extend debt to junk-rated companies alongside heavily-regulated banks.
"It's always been a good time to get into this space, given the scale of our M&A business and depth of coverage," Gregg Newman, co-head of Houlihan's capital markets group, said in an interview. "Our clients have said 'we're already working with you on the M&A and private financing side, so why not on the syndicated financing side as well?'"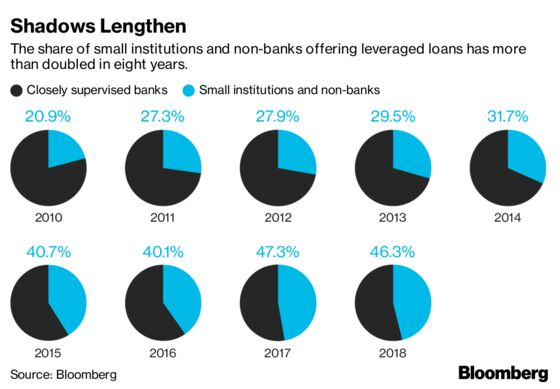 The leveraged lending unit will be part of the group that Newman leads together with Anthony Martino and Chris Dunlop. The firm hired Matthew Lyness and Ed Ribaudo from Antares Capital to help launch the business. Newman said Houlihan plans to add one or two more people to the group soon, with others planned as the business expands.
Houlihan Lokey said it's partnering with private equity firm HPS Investment Partners as an investor and for underwriting commitments. The bank also has a unit that focuses on financial restructuring, including advising companies with unmanageable borrowings on transactions such as debt exchanges and bankruptcy filings.
The largest banks dominate the business of extending loans to high-yield companies, but less-regulated entities have been snagging market share as lending has surged. Firms like KKR & Co., Jefferies Group LLC and Antares Capital were among the top 20 underwriters of U.S. leveraged loans last year, with each controlling more than 1.2 percent of the market, according to data compiled by Bloomberg.
The U.S. market for leveraged loans has boomed as highly indebted borrowers take advantage of investor demand for floating-rate debt as interest rates rise. The deals can be lucrative. Fees for arranging leveraged loans hit a record $6.6 billion through the first half of 2018, according to Freeman Consulting Services, and they're on track to hit an all-time high this year.
"I don't think we have a crystal ball about how long the robust volume will continue, but I think as a firm we're really well positioned even in a challenging financing market," Newman said.