Hospitals Rally With Investors Pinning Hopes on Private Equity Buyers
(Bloomberg) -- The potential of private capital coming in and rescuing hospitals is driving a rally in shares.
The Bloomberg Intelligence Hospitals index jumped as much as 8.1 percent, the most since August 11, after Apollo Global Management LLC shelled out $5.6 billion to buy rural hospital chain LifePoint Health Inc., including its debt and minority interest. While hospital stocks have staged a comeback this year, they're still down 40 percent since their peak in mid-2015.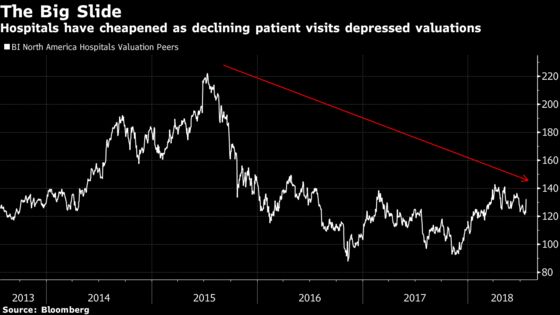 Investors hope that "there could be more private capital seeking to take hospitals private," Leerink's Ana Gupte said in an email.
The LifePoint deal comes after two big private equity deals just last month: KKR & Co. acquired Envision Healthcare Corp. for $5.57 billion plus debt, and a Veritas Capital unit purchased Cotiviti Holdings for $4.9 billion in cash.
Leerink sees Tenet Healthcare "as the target of most activist and private interest to unlock value."
Tenet was the second-best performing hospital stock in Monday's trading session. The stock's 9.9 percent intraday rally brings its year-to-date gain to 152 percent. The Dallas, Texas-based company has benefited from restructuring efforts after top holder Glenview Capital Management pushed for change.
Even so, analysts have previously argued that Tenet, and its similarly indebted peer Community Health Systems Inc., may struggle to find a buyer in an outright sale given their $30 billion in combined debt.
For Community, "if it hasn't happened yet, it isn't going to happen," John Morrow, a managing director at Franklin Trust Ratings who analyzes the industry, said in a phone interview. Tenet "sorted themselves out, they solved some of their bigger problems," but only "time will tell."