Hasbro Climbs as Investors Shrug Off Collapse of Toys 'R' Us
(Bloomberg) -- Hasbro Inc. took another hit from the liquidation of Toys 'R' Us Inc. in the U.S. as revenue fell for a third-straight quarter, but the toymaker still beat Wall Street estimates thanks to the strength of its big brands like Monopoly, driving shares higher.
The world's largest publicly traded toymaker's second-quarter revenue was $904.5 million, the company said Monday, surpassing analysts' projections. That drove the shares up as much as 13 percent, the biggest intraday gain since February 2017.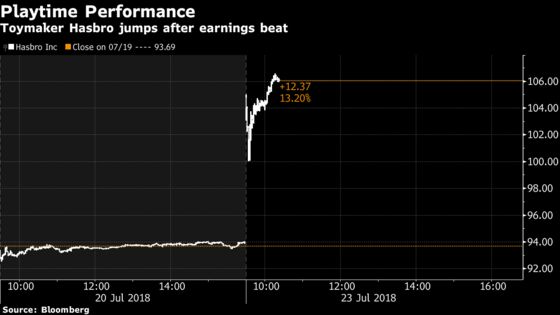 The report came during the quarter when Toys 'R' Us was expected to finish closing all its U.S. stores after failing to emerge from bankruptcy. That's left toymakers trying to replace the $6.5 billion in U.S. sales the chain generated last year. So far, everyone from Amazon.com Inc. to Party City Holdco Inc. have made moves to fill the void.
"After this year, the disruption in total should be behind us," Hasbro Chief Financial Officer Deb Thomas said on a call with analysts. "That's what we're focused on."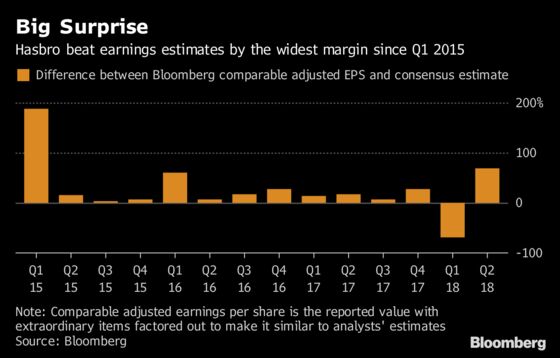 When Hasbro reported its first quarter in April, Chief Executive Officer Brian Goldner eased investors' concerns by saying the worst of the Toys 'R' Us mess was behind it. But the impact was obvious as revenue in North America plummeted 19 percent. The company reiterated on Monday that the worst had passed and said it expects to return to sales growth in 2019.
In the second quarter, North American sales fell 7 percent. International sales were also down, dropping 11 percent as the company tried to clear excess retail inventory in Europe, which also lost some revenue from Toys 'R' Us. Entertainment and licensing was Hasbro's strongest segment, with revenue in that unit growing 26 percent.
Excluding some items, profit was 48 cents a share, compared with projections for 29 cents.
During the quarter, Hasbro agreed to buy Power Rangers, and several other lesser-known titles, from Saban Properties. The company's first line of Power Rangers toys will debut early next year in what Goldner called a transition period. By 2020, he expects the property to be on its way to becoming one of its biggest brands.
America's trade disputes with several countries haven't impacted Hasbro in a material way yet, Goldner said. However, the company is continuing to move manufacturing out of China. That includes bringing some production of Play-Doh back to the U.S. this fall, a decision made early last year.
But if President Donald Trump put tariffs on toys made in China -- a real possibility given that he's threatened to put duties on all Chinese imports -- shoppers would be facing higher prices this Christmas, the company said.
"We've been working with and talking to the administration and our congressional delegations to be sure we're communicating just how terrible an impact ongoing tariffs or a trade war would be," Goldner said on the call with analysts. "We continue to talk, and firmly believe, in a free trade environment as the best course for our company."