Halliburton Tumbles as Frack Giant Sees Second-Half Slowdown
(Bloomberg) -- Fracking-services king Halliburton Co. plunged the most in almost three years after warning that second-half profits will suffer on a slowdown in the Permian Basin and other parts of the U.S.
The Houston-based oilfield servicer dropped as much as 8.2 percent in New York trading for its biggest decline since November 2016. The company on Monday reported a weaker-than-expected operating profit in the second quarter, and Chief Executive Officer Jeff Miller told analysts he sees similar results coming in the third quarter, well short of the growth investors expected.
Pipeline shortages and other issues will delay work in both the Permian and Marcellus basins, Miller said. Halliburton, the world's biggest frack provider, is facing a double whammy in North America with the Permian headed for a temporary slowdown and chief rival, Schlumberger Ltd., ramping up competition in Halliburton's home market.
"People definitely expect the pause in the second half, but you need a substantial beat in 2Q to start from a new level," Luke Lemoine, an analyst at Capital One Securities, said Monday in a phone interview. "We all know the second half is coming down, but you want to come down from a higher level."
Halliburton's oil-service peers also dropped on the disappointing outlook, headed by a 7.4 percent plunge for Patterson-UTI Energy Inc.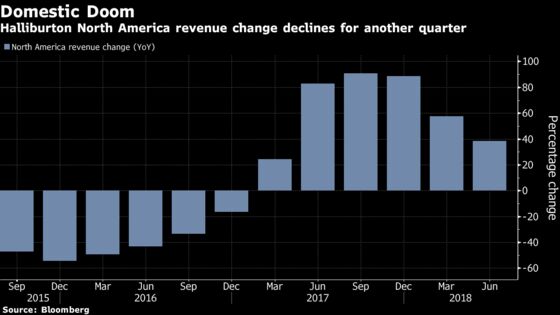 The company announced a $789 million second-quarter operating profit that fell short of the $816 million average estimate from 14 analysts in a Bloomberg survey. Halliburton had been a consistent outperformer in most earnings measures until now.
Rather than the flat sequential growth in earnings that Miller forecast, analysts coming into today were expecting Halliburton to boost earnings 17 percent to 68 cents a share compared to the second quarter, according to the average of 27 estimates compiled by Bloomberg.
The slowing of U.S. activity due to pipeline constraints coupled with competitors adding more frack gear will put greater pressure on Halliburton to be able to boost its service pricing in the third quarter, Miller said.
"Because of the things I've described this morning, I think the total market is temporarily balanced," Miller said of the supply and demand for fracking, which he has previously said was about 500,000 horsepower undersupplied.
Thanks to the Permian Basin, North America has been the world's growth engine, leading the global oil industry out of the worst crude crash in a generation. That's allowed Halliburton and its peers to push up pricing for everything from drilling to fracking and even the grains of sand that prop open rocks for the oil flow.
Schlumberger posted a 43-cent per-share profit on July 20 that matched analysts' estimates. Baker Hughes, the No. 3 player in oilfield services, fell short of expectations. Still, both companies expressed optimism that a global recovery in demand for their expertise and gear will yield tangible financial benefits by the end of this year.
The U.S. fracking market was already fully recovered from the rout as recently as last month, having employed 480 fleets of rock-crushing pumps throughout the industry in June, according Primary Vision Inc. That's more than triple the number of crews fracking in the U.S. two years ago and already eclipsing pre-bust levels in 2014.
Halliburton reported an operating profit of $669 million in its completion and production unit, which houses the world's biggest fracking business. That's less than the $711 million that Lemoine said he was looking for.
In North America, the company's largest region, sales expanded 38 percent from a year earlier. It's the third-straight quarter that year-over-year revenue growth shrunk from the previous period.
Halliburton has lost 15 percent, or more than $6 billion, of its market value this year, lagging the 14 percent growth in West Texas Intermediate, the U.S. crude benchmark.
"We were hoping a Q2 print better than market expectations would be just what the doctor ordered to jumpstart" Halliburton stock, analysts at Tudor Pickering Holt & Co. wrote Monday in a note to investors. "But these in-line results likely won't be that catalyst."