Further FAANG Disappointments Could Be Detrimental: Taking Stock
(Bloomberg) -- The last five days have provided plenty of fodder for the bulls, as my colleague on the Markets Live blog Andrew Cinko pointed out on a post titled "What We Learned This Week Is Stocks Are Still in a Bull Market."
It's early, but the consistency of earnings beats have been nothing short of spectacular -- as of last week, 95% of the 86 companies in the S&P 500 that have reported results topped EPS expectations -- JPM points out that out of the results so far, the stock reaction to the beats is the best in two years while we're also seeing the second best quarterly guidance outlook in five years (67% of companies have revised earnings forecasts higher).
Not to mention the relative strength in the financials (BKX banks index finished the week up 2.3% vs a flat S&P 500) and the fact that the cash index keeps holding its ground at the 2,800 mark, which has served as resistance for months -- so far the futures are off lows and pointing to an open just a few handles below 2,800.
But the resistance-becomes-support theory could start to look even clearer if the market continues to zone in on earnings, guidance and long-term fundamentals and shrug off the most recent bout of trade discord (Trump's $500b tariff threat), geopolitical browbeating (Trump's fuming all-caps tweet against Iran's Rouhani) and the jitters over a currency war breaking out (Mnuchin attempted to assuage those concerns over the weekend). If the earnings continue to come in anywhere close to what we've seen so far -- and no major bellwether utters the words "high-water mark" or "peak cycle" -- and the more macro noise gets drowned out, then the stage would likely be set for a prolonged rally that would ultimately test January's closing record of 2,873.
Further FAANG Disappointments Could Hurt
But one area where I think the market needs cooperation from, in this scenario, is the momentum trade. I'm not so sure the tape can withstand further disappointments in the FAANG complex (key metrics underwhelming sell-side models and buy-side whispers, worrisome capex commentary, etc.) after what we just saw happen to Netflix shares, which dropped almost 10% since last Monday's results to notch its worst week in over two years.
This is partly because these long trades are crowded by so many hedge funds, partly because the sell-side is beyond one-sided in their recommendations for the group -- the FAANG stocks collectively have 182 buy ratings versus 7 sells -- and partly because the topic of FAANG frothiness has been brought up more and more lately.
If any of the three FAANGs due to report this week (Alphabet tonight, see our preview; Facebook Wednesday, Amazon Thursday) react poorly after their results, or if Netflix starts to really spiral downward, or if other momentum names begin to show weakness (like Tesla -3.7% pre-market after this Wall Street Journal article over the weekend: "Tesla Asks Suppliers for Cash Back to Help Turn a Profit"), then that frothiness could quickly turn to a pain that has the potential to kneecap the odds of a continuation rally in the broader market.
Semis, Hospitals, and the Toy Stocks
Hospitals after LifePoint deal is now confirmed (shares rose >40% Friday after the bell on a Reuters report); watch for outperformance in Tenet Healthcare, Community Health, Universal Health and HCA Healthcare
Semiconductors are looking weak to start the day, with names like Micron off almost 2% and AMD off ~1% -- not seeing any particular catalyst, though it's a bit jarring how much impact the commentary from Taiwan's Win Semi had on SkyWorks and optical stock Lumentum in the prior trading session; Morgan Stanley has a note on the chips today talking about how tariff uncertainty ("could turn yellow flag to red") may lead to an inventory unwind and correction the stocks, which isn't helping things
Aluminum stocks, like Alcoa and Century Aluminum, after Mnuchin said the U.S. was open to lifting sanctions off Rusal, which supplies ~6% of the world's aluminum
Toy stocks, like Mattel and Funko, as Hasbro shoots up almost 9% on a big beat
Any stocks reeling from the news of Sergio Marchionne's deteriorating health, as he was the CEO of Fiat Chrysler (-2.8% in Milan) and Ferrari (RACE ADRs -3.9% pre-market) as well as the chairman of CNH Industrial (CNHI -1.9%)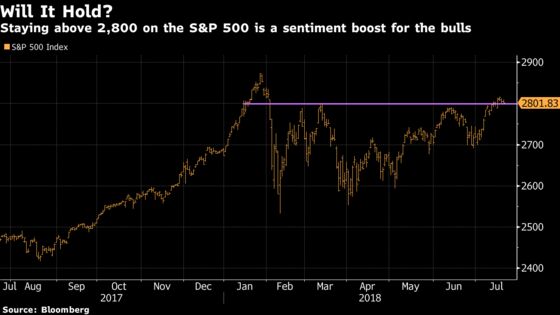 Netflix Bull vs Bear Event - Today 12pm ET
A reminder that I'll be moderating a Netflix Bull vs Bear Q&A on the Top Live blog Monday. BTIG's Richard Greenfield (the bull) and Wedbush's Michael Pachter (the bear) will be answering client questions for an hour starting at noon.
Click here to see event details.
I'll be handpicking the questions, which will show up as anonymous -- your name and firm won't be advertised -- so if you have one for either analyst or both, please send it in an email to TopLive@bloomberg.net in advance of today's event.
Tons of initiations out on recent IPOs, including BJ's Wholesale (BJ) with more buys than holds so far and BrightView Holdings (BV) with nothing but buys from the seven analysts who launched coverage..
Goldman strategist David Kostin has a note out on potential impact from tariffs: "A 10% tariff on all imports from China would lower our 2019 S&P 500 EPS estimate by 3% to $165. If tensions spread and a 10% tariff were implemented on all US imports (highest rate since 1940s) our EPS estimate would fall by 15% to $145".
Morgan Stanley strategist Michael Wilson, who has advised investors to get more defensive recently, says he sees negative signals developing (consumer confidence, business confiditions, corporate margins, PMIs) that "make us think the path of least resistance is lower for US equities".
Morgan Stanley's Adam Jonas says Waymo launching its fully public commercial service later this year will drive GOOGL towards the $1 trillion bull case.. BTIG's Richard Greenfield initiates SPOT with a buy rating and Street-high price target of $230, calling it a "must-own stock" that will be a long-term winner in a category (subscription music) that remains in its infancy..
Needham boosts ROKU price target to a Street-high $60 on earnings upside and the potential for the company to be bought ("we expect companies that could have bought NFLX at less than $10B will not want to make that same mistake again").
Several positive notes out on DATA this morning, including Needham, Morgan Stanley, and Goldman, with the latter tagging the stock with a Street-high price target of $130 as demand remains strong and "still some stickiness in negotiating large subscription contracts".
Tick-by-Tick Guide to Today's Actionable Events
Today -- IPO lockup expiry: PAGS
7:30am -- LECO earnings
8:00am -- ITW, LII, BPOP earnings
8:30am -- Chicago Fed
8:30am -- HAS earnings call
9:00am -- HAL earnings call
10:00am -- Existing Home Sales, Eurozone Consumer Confidence
11:30am -- Treasury auction: $51b 3-month bills, $45b 6-month bills
11:45am -- Michelin (roughly) earnings
12:00pm -- TopLive Q&A: Netflix Bull vs Bear, click here for details
4:01pm -- AMTD (roughly) earnings
4:02pm -- GOOGL earnings
4:05pm -- SANM, CDNS, WERN earnings
4:30pm -- WHR, KALU earnings
4:30pm -- GOOGL earnings call
5:00pm -- CR, BRO (roughly), ZION earnings
6:00pm -- STLD earnings