Here's What Analysts Are Saying About Fiat's 'Dramatic' Switch
(Bloomberg) -- Fiat Chrysler Automobiles NV and Ferrari NV are falling in Milan trading amid a "dramatic and sudden" leadership transition after the carmakers respectively appointed Mike Manley and Louis Camilleri as their chief executive officers over the weekend following the sudden deterioration in the health of industry giant Sergio Marchionne.
Manley has successfully run the Jeep brand for the past few years as the SUV-focused division has become one of Fiat's pillars for future growth, brokerages note. Evercore ISI doesn't foresee the "change in captain altering the course of the ship," according to a note. Still, analysts highlight that stocks linked to the Fiat Chrysler group may be under pressure in the short term until further visibility on strategy emerges.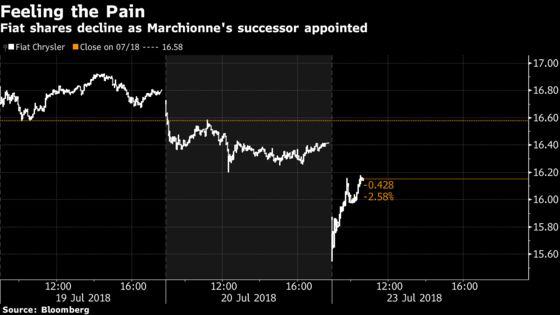 Ferrari fell 2.8% as of 11:15am, the worst performer on Milan's benchmark FTSE MIB index, followed by Exor NV, CNH Industrial NV, and Fiat Chrysler, down 2.6%, 2.5% and 2%, respectively.
Evercore ISI (George Gallier, outperform)
While Marchionne was already due to retire as Fiat Chrysler CEO, this development is unexpected and investors don't like negative surprises or uncertainty. Both Fiat and Ferrari are likely to be under some near-term pressure in coming days. Still, Manley is an "extremely experienced" auto executive, and the companies' 1H results will provide them with the opportunity to reassure the market.
Banca Akros (Gabriele Gambarova, accumulate from buy)
Worsening of Marchionne's health condition accelerated an already set departure process, though it's "not 100% sure" whether the management choice would have ended up the same. The news comes as a bad surprise, as some M&A speculation could re-start now that the company's leadership has weakened "in such an abrupt way." Brokerage also cuts Ferrari to neutral from accumulate, as new CEO Camilleri will need some time to become familiar with the supercar maker, which may lead to a delay of the September capital markets day.
Mediobanca (Andrea Balloni, outperform)
News on Marchionne is negative and expected to increase volatility, even though the downside for the stock is "pretty limited," the brokerage said. While Marchionne was already going to leave and a new business plan has already been presented, believes market expected Marchionne "to surprise again with a very last M&A deal before his retirement."
Fidentiis (Marco Opipari, buy)
While the CEO transition was "dramatic and sudden," Marchionne had almost completed his work at Fiat and leaves group with a strong balance sheet and good profitability. Manley could be the right person to lead the next phase, as execution of the business plan will be closely related to the success of Jeep and the Ram truck operation. In the short term, Fiat shares could suffer on uncertainty related to the CEO transition, though in the months ahead a speculative appeal could re-emerge on a possible acceleration of a major car-industry merger.
Morgan Stanley (Adam Jonas, overweight)
Analysts hold Manley in high regard as he has "deep experience" overseeing the company's two most valuable businesses, Jeep and Ram. If Jeep's commercial success is any indication, Manley has "extremely strong credentials" to run a global carmaker; his main challenges include finding industrial and technology partners for Fiat Chrysler.