East Hampton Celebrates Brooklyn and Conformity Takes a Hiatus
(Bloomberg) -- The pressure of wealth is a pressure to conform, and it's especially acute in the Hamptons.
There's the required attire for golf, tennis, a drink at the club. Think you can turn down that dinner party invitation? Are you really going to get through a weekend without sipping rose and pulling in to a farm stand for blueberries?
No wonder there are release valves hiding beyond the hedges. Sadly, a drive to Montauk doesn't quite do the trick anymore, but there is a place in the woods of East Hampton that's on top of its non-conformity game. It's called LongHouse Reserve, and on Saturday night it hosted a benefit.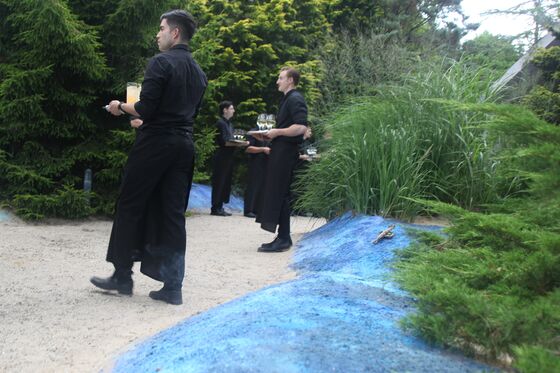 It was clear this was no Prada-filled lobster bake as guests including real estate developer Axel Stawski and attorney Steven Pesner arrived to the sculpture gardens created by textile artist Jack Lenor Larsen.
Dried peppers hung from the entrance. Burning bundles of herbs rested on man-made dunes dyed bright blue for the occasion. A machine that looked like a trash can emitted blueberry-scented bubbles.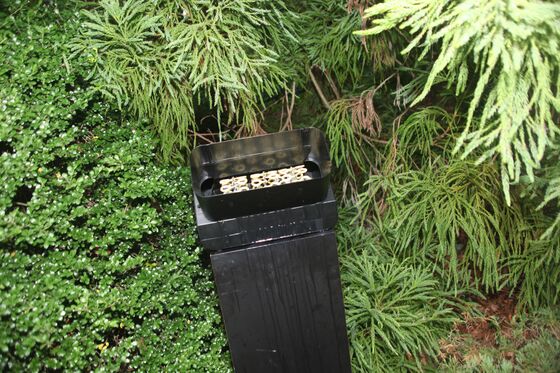 Jane Gladstone of Evercore Partners, in lime green vintage Oscar de la Renta, seemed ecstatic to be there. "I'm a disruptor," she said standing next to a whole roasted pig. A marching band warmed up a few feet away. Guests wore baseball caps. One artist toted around her baby at the event, which raised more than $700,000.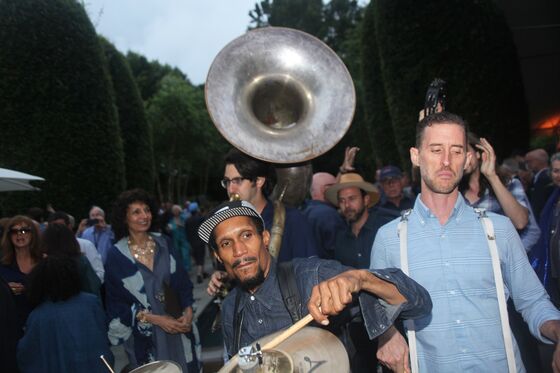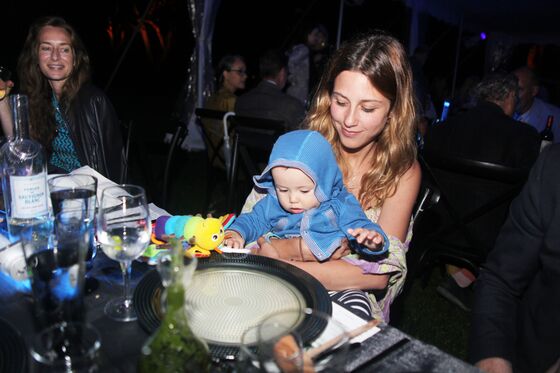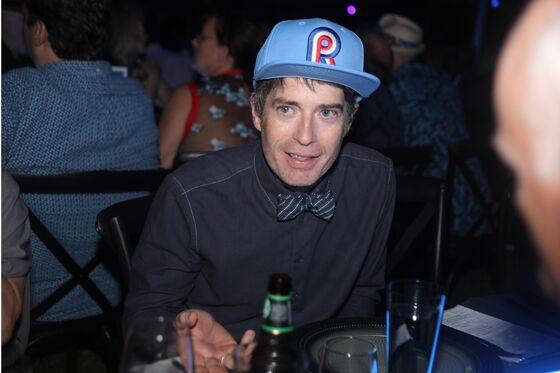 Gladstone said it felt like an outing to Brooklyn, and that was by design. The event was dubbed "LongHouse Celebrates Brooklyn" and honored Dustin Yellin, the founder of Pioneer Works, a space for arts and science in Red Hook, and Joe Melillo, executive producer at the Brooklyn Academy of Music.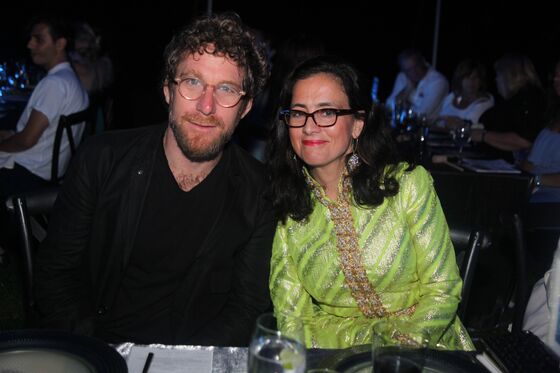 The program focused on East Hampton and Brooklyn as refuges for artists and audiences, with their share of things in common, like organic produce and increasing real estate prices. Janna Levin, the director of sciences at Pioneer Works, dripping with irony, pointed out a difference: East Hampton "is a little prettier than the sidewalks of Red Hook, but only a little prettier."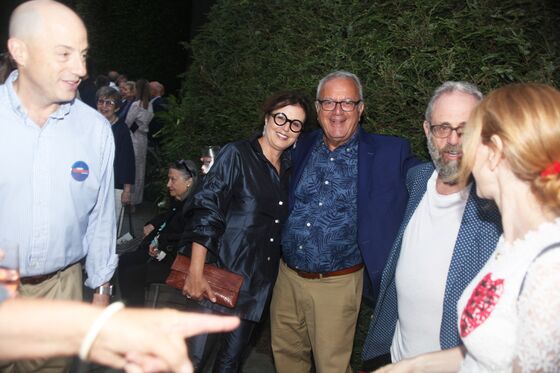 Composer David Lang said it was BAM's Melillo who pushed him to experiment, to question the rules of classical music where "polite instruments play nicely with each other." The works Lang created at BAM led to his latest project, "The Mile-Long Opera," which will put a thousand singers from all five boroughs speaking several languages along the length of Manhattan's High Line from Oct. 3-7.
In general, the talk was idealistic, without much complaining about what these places have become (now that's a break!), although Gladstone acknowledged the realities.
When asked if Brooklyn could save the Hamptons, Gladstone, who lives in Manhattan, said, "I wish."
Gabe Florenz, artistic director of Pioneer Works, said such a rescue would be nice, but he'd stick to his city perch.
"The Hamptons is a dirty word," Florenz said. "People come out here for luxury weekends that are all about cultivating relationships."
Near a row of high hedges, Yellin pointed to two of his sculptures on the grounds: a rocket made of bathroom tile and another made of mesh garbage cans. He rejected an offer by LongHouse's president, Dianne Benson, to make a studio for himself in East Hampton, like Jackson Pollock, Willem de Kooning and Larsen had.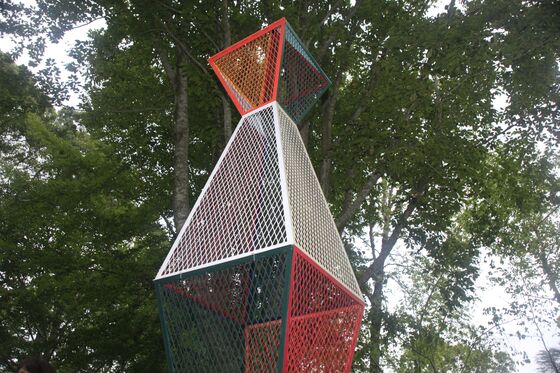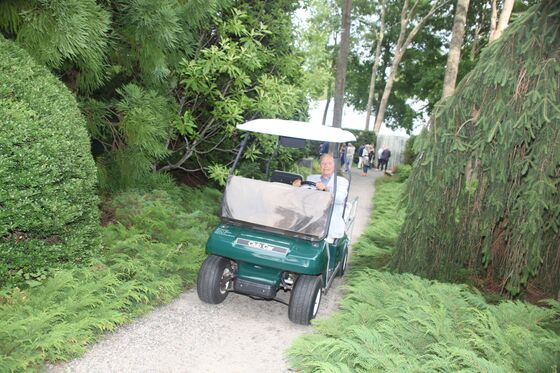 "I'll stay in my hive," Yellin said of his Red Hook digs.
As for venturing to the Hamptons, he didn't seem to mind. "We've got to take the money from the wealthy people and give it to the people in Brooklyn," he said. "I'll go anywhere they tell me."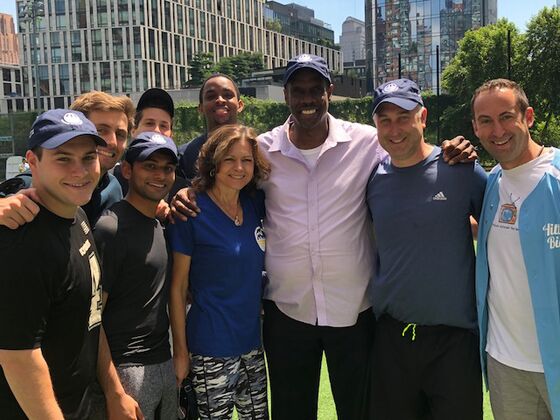 Back in Manhattan on Friday, Goldman Sachs employees didn't have to go far for some rest and relaxation: the third annual Wiffle Ball tournament took place on the fields next to their West Street office.
Traders and bankers stumbled early, as an operations team -- Ken Wiffey Jr. -- beat Ballistic Wiffle from internal audit to take home the title and box seats to that night's Yankees-Mets game.
On the sidelines, the event's founder, Brian Levine, Goldman's co-head of global equities trading, mused about opening up the contest he founded to Wall Street rivals. Dream, a non-profit that uses baseball and softball to help guide youth to college, provided the officials. Dream honored Goldman's incoming CEO David Solomon in June.