Marchionne's Transformative Fiat Chrysler Tenure: Timeline
(Bloomberg) -- Over 14 years at the helm of what's now Fiat Chrysler Automobiles NV, Chief Executive Officer Sergio Marchionne transformed a middling European carmaker into a global giant.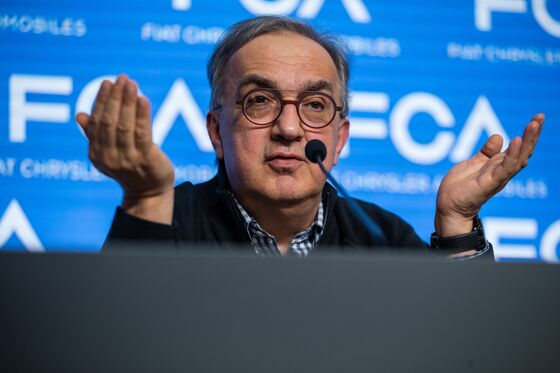 As the company prepares to pass the CEO job to Jeep executive Mike Manley, here is a timeline of some key moments during Marchionne's tenure.
Marchionne, then serving as CEO of goods inspector SGS SA, is appointed CEO of Fiat. He pledged to complete a turnaround plan initiated by his predecessor to end years of losses, and soon announced plans to revamp Fiat's organization to make it more efficient.
Marchionne extracts $2 billion from General Motors to end a dispute over the ownership of their Fiat Auto joint venture, and announces plans to terminate other alliances with the U.S. carmaker.
Fiat takes ownership of Chrysler assets, pledging to reopen factories idled during its bankruptcy. Marchionne commits no cash, instead pledging to share engineering resources and technology with the struggling U.S. company.
Fiat spins off its industrial assets as a precursor to creating a global automotive company, combining its own operations with Chrysler's.
The merged Fiat Chrysler Automobiles NV makes its debut on the New York Stock Exchange. Shortly afterward, the company announces a spinoff of luxury brand Ferrari.
Ferrari NV, with Marchionne as chairman, begins trading in New York with a market value of about $10 billion. That success came after GM rebuffed attempts by Marchionne to instigate a merger that would create the world's largest automaker.
Marchionne puts major merger attempts on hold to focus on cutting debt at Fiat Chrysler.
Marchionne unveils a five-year plan for Fiat Chrysler, aimed at doubling profit and restoring dividends for the first time since the 2014 merger. The company also plans to invest 9 billion euros ($11 billion) in electrifying its fleet through 2022. 
With his health faltering, the 66-year-old is replaced with Manley, who led a successful global expansion of the Jeep brand. Marchionne's worsening condition accelerated the succession.