Trump's 'Buy American' Brigade Sets Up Shop at U.K. Airfield
(Bloomberg) -- Ken Koller hasn't been to an international trade show before. The U.S. Navy veteran normally spends his days in Idaho Falls, where he runs a business that employs eight people making a carbon-based fiber used to reinforce metals.
He spent this week in a convention center on an airfield in Farnborough, some 30 miles southwest of central London, meeting potential clients from around the world. It cost about $3,000 of his own money to be here—and he said he wouldn't have come if not for U.S. President Donald Trump.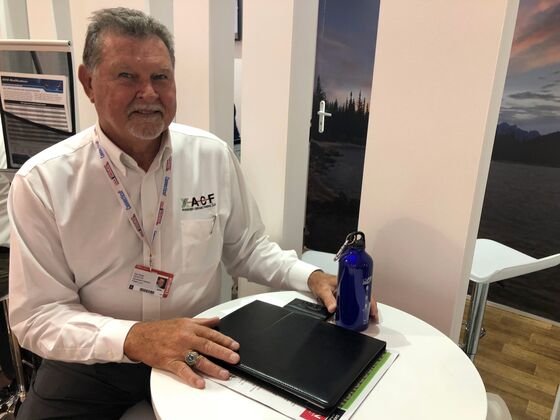 "We love him, personally and professionally," said Koller, 71. "We see a huge influx of defense spending. We see customers now coming to us and saying 'hey, we've got money."'
He's part of a growing U.S. presence at the Farnborough air show, the biggest event of its kind this year, as Trump ramps up defense spending and pressures NATO allies to do the same while pushing a "buy American" policy at home and abroad. At the U.S. pavilion, where Kentucky bourbon samples are handed out and companies tout their engine parts and metal coatings to a global audience, that slogan is being put into practice—even as Trump embarks on a trade war.
New Hampshire, South Carolina, Oklahoma, Kentucky and Idaho are among states that bought space in the red-carpeted pavilion to show off their wares. The American turnout was partly financed by the U.S. Small Business Administration's State Trade and Export Promotion grant program, an Obama-era initiative that helps firms looking to compete internationally.
"Everybody thinks horses and bourbon" when they think of Kentucky, said Griffin Melzer, who's manning the Kentucky Aerospace Industry Consortium stand, but aerospace and defense products are its biggest export. He's here to make sure the world knows that—even though he's using free samples of the state's famous spirit to draw them in.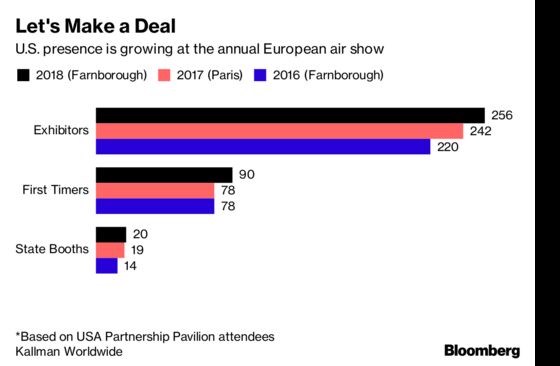 States and companies have ramped up their presence, said Peter McKenna, vice president for business development at Kallman Worldwide Inc., which sells floor space at the event. There are 256 U.S. companies and 20 states with stalls in the USA Partnership Pavilion this year, up from 220 exhibitors and 14 states the last time the show was held, in 2016. The annual show alternates between Farnborough and Paris.
"On the military side, there's an interest in pursuing the market" because of the prospect of higher NATO spending, he said. "People in this industry are just really gung-ho on the future."
Trump officially launched his "buy American" drive in April 2017, issuing an executive order instructing the heads of all agencies to put forward plans to maximize the use of U.S. materials in their procurement. This year he's set out plans to loosen regulation, making U.S. defense exports easier.
Those efforts aim to "both reassure our companies that we have their back, when they go out and they make the case for defense sales overseas, but also to reassure our strategic partners all over the world that there is a strong purpose in acquiring these systems," ambassador Tina Kaidanow, acting assistant secretary in the State Department's Bureau of Political and Military Affairs, said on a call from the air show on Monday.
Not all attendees are as bullish as Koller and McKenna. Many made plans to attend before the prospect of trade wars became real this spring. Trump tweeted in March that such conflicts were "good, and easy to win," as he imposed tariffs on steel and aluminum imports. They're now starting to see the effects.
Those tariffs have raised raw material costs, said Mitchell Hall, chief executive officer of ERG Aerospace Corp., which is exhibiting shiny samples of its metal foam product. It sources aluminum from U.S. suppliers who've raised prices amid higher demand, though Hall says he worked with suppliers ahead of time to shelter the company from the largest price swings.
Tina Kasim, international program manager at New Hampshire's economic development division, said some businesses are being hit by a rise in the cost of components from China, while others are worried about the prospect of retaliatory tariffs from China, Canada and Mexico, the state's biggest export destinations.
"While we know this is happening and this is having an impact on companies, we want to encourage them to keep looking at exporting," she said. "Our message is, don't let this scare you off, things will hopefully settle down."
Over at Idaho's stand, Sarah Massie, international trade specialist at the Idaho Department of Commerce, said the risk of trade wars makes it more important than ever to be at the show.
"For companies, not being visible at a time when things are uncertain would actually be harmful," she said. "You can't hide away, otherwise the companies that might buy from you will also hide away."
If trade tensions do put international partners off, the air fares to Europe won't be wasted. The American companies that traveled to Britain for the show are doing more business than before with each other, Massie said. "I do have companies that come back and say some of the biggest clients they've landed are from the U.S. pavilion."