They're Perfect: 18 Industrial Firm Earnings, All of Them Beats
(Bloomberg) -- Trade war? For U.S. industrials, the focus is on the post-earnings trade pop.
Almost one-fourth of industrial companies in the S&P 500 Index have reported second-quarter results, and all 18 have beaten on the bottom line. Additionally, every firm but one came in with better-than-expected numbers on the top line.
The market is rewarding investors in the sector, as industrial shares have risen 4.2 percent on average the day after reporting, compared with a more modest move of 0.6 percent for all companies.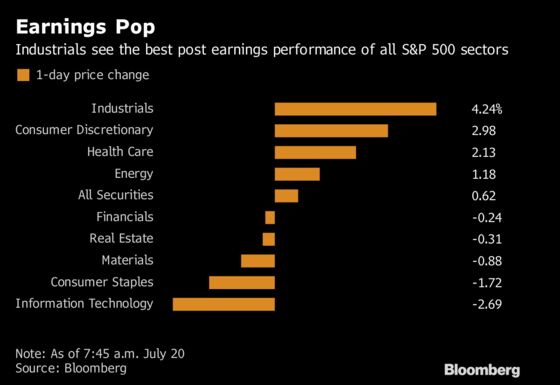 Industrials were the third-worst performing group in the first six months of the year, dropping 5.6 percent. The outperformance in July has trimmed that loss to 1.8 percent, making it the fourth-worst performing sector in 2018.
"Without a doubt, the escalating trade and tariff situation has played a large role in that performance," Lindsey Bell, an investment strategist at CFRA, wrote in an email. "However, as second-quarter earnings season for the industrial sector draws near, early indications suggest opportunities may be found within the group."
General Electric Co., Honeywell International Inc. and Stanley Black & Decker Inc. reported earnings Friday, each beating on both earnings and sales forecasts. GE traded higher in early trading after noting strong demand for aviation and health-care equipment. Honeywell rose 2.7 percent after raising its 2018 profit outlook while Stanley gained around 3 percent.
Among S&P 500 components, firms like industrials that serve a more global customer base have shown better improvement in their top and bottom line results than their 'America First' peers.
Credit Suisse chief U.S. equity strategist Jonathan Golub notes that year-over-year earnings and revenue growth among U.S. exporters is 21.4 percent and 11.7 percent this earnings season, respectively. That outstrips the pace of financial improvement on each among domestically-oriented companies by more than 5 percentage points.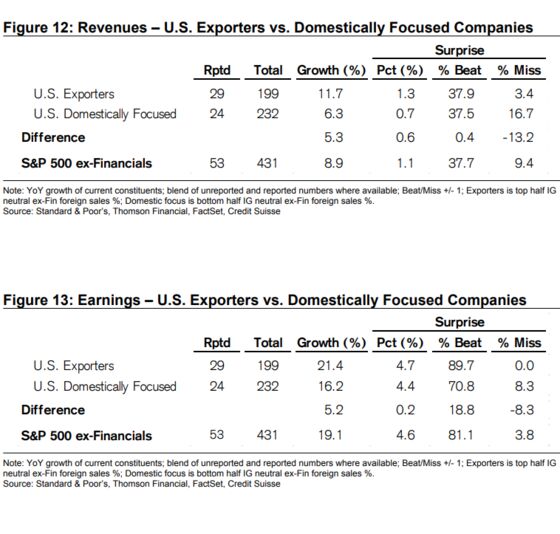 Results like these help take the sting out of the prospect of tariffs on $500 billion in Chinese imports.