Telia Takes Page From AT&T With $1 Billion Broadcaster Buy
(Bloomberg) -- Telia AB Chief Executive Officer Johan Dennelind is making a major expansion by the Swedish telecom monopoly into content with a 9.2 billion kronor ($1 billion) agreement to buy Bonnier AB's television operations, his second big purchase this week.
The acquisition follows a $2.6 billion deal on Tuesday to buy TDC A/S's business in Norway to take on the country's largest operator, Telenor ASA, on its home turf.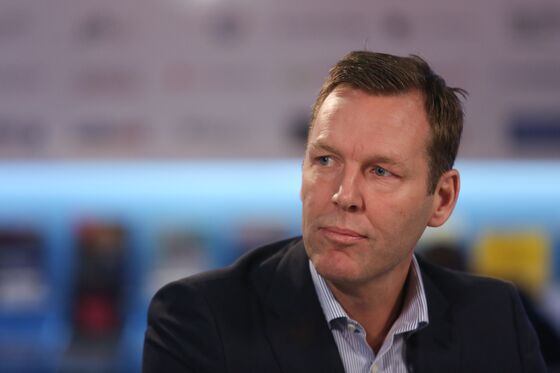 Closely held Bonnier AB owns TV channels in Sweden and Finland, and with the deal Telia is emulating U.S. and European peers who have added content to their traditional phone services to combat powerful digital rivals like Netflix Inc. and Amazon.com Inc. Like AT&T Inc.'s deal to buy Time Warner Inc. in the U.S., Telia becomes both a distributor and producer of content with the Bonnier acquisition.
"A stronger Telia emerges with these two deals," Dennelind said in a phone interview Friday. "It feels right from a strategic and financial point of view, and emotionally it feels great to be able to land two important deals in one week."
Telia declined 2 percent to 39 kronor at 11:08 a.m. in Stockholm, after the carrier also reported second-quarter earnings that were broadly in line with analysts' estimates.
Telia has exited troubled investments in Central Asia in recent years to focus on Nordic and Baltic markets under Dennelind. A key part of the company's strategy is to retain customers by offering combined subscriptions on TV, mobile and broadband services.
Telia's purchases are the latest in a string of major deals in the Nordics that are reshaping the telecom and media landscape. Telia's Danish competitor TDC A/S earlier this year moved to buy TV and online streaming assets from Sweden's Modern Times Group AB, in a deal that fell through when TDC was bought by a consortium led by pension funds.
The purchase of Bonnier Broadcasting could be politically sensitive, as it would make the Swedish government, which retains a 37 percent stake in Telia, the largest owner of Sweden's largest private channel, TV4, as well as its own public service channels.
Minister of Enterprise Mikael Damberg told Swedish daily Dagens Industri that he's not very impressed by the plan and that the government has no ambition of owning commercial TV stations. Elisabeth Svantesson, the economic policy spokeswoman for the Moderates opposition party, said the government would have to sell its stake in Telia if the purchase is approved.
"My focus has been to come to a conclusion on a deal that makes sense for us and our shareholders," Dennelind said on a conference call, adding he expects the acquisition to be closely scrutinized by regulators. Telia expects to close the acquisition of Bonnier Broadcasting in the second half of 2019.
Before then, Sweden holds a general election in September this year, which could result in a political gridlock. Polls show the opposition coalition neck and neck with the ruling bloc led by Social Democrats, while a nationalist anti-immigration party largely shunned by established parties is gaining significant support.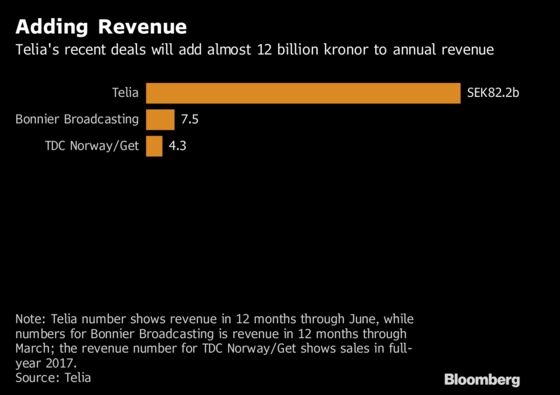 The purchase in Norway adds about $480 million to Telia's annual sales, which stood at about $9 billion last year. The acquisition of Bonnier Broadcasting add another $840 million, meaning Dennelind has signed deals that will boost Telia's revenue by almost 15 percent over a few days.
"We are not convinced on the strategic rationale for telecom operators owning media assets," Goldman Sachs Group Inc. analysts including Andrew Lee said in a note. "However, we believe the Bonnier acquisition risk for Telia was likely already discounted."
Telia will pay an additional amount of as much as 1 billion kronor to Bonnier, depending on future sales and earnings performance of the channels.