Analysts Expect Drug Supplier Whiplash To Endure on Rebate Changes
(Bloomberg) -- Analysts agree Trump's prescription drug plans look ugly -- but they are divided on the real financial impact of the changes on the pharmaceutical supply chain.
While Jefferies expects the rebates debate to be an overhang, they only see a "modestly negative" impact in the worst case scenario, with Medicare beneficiaries and the federal government shouldering the bulk of the costs if rebates were eliminated.
Baird offers a less optimistic analysis. "Healthcare supply chain companies have become virtually impossible to analyze," one analyst wrote, cutting most of remaining outperform ratings in the sector to neutral.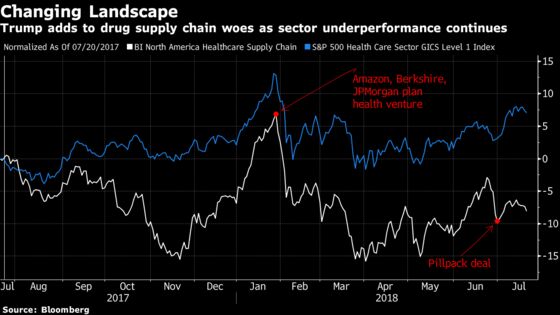 Jefferies, Brian Tanquilut
The Trump administration's proposal to eliminate prescription rebating safe harbor "has intensified the drug pricing pressure overhang" on the drug supply chain, Tanquilut says.
"The fundamental impact of an elimination of Medicare Part D rebates will likely be neutral to just modestly negative." Removing drug rebates "may reduce competitive bidding advantage for CVS, ESRX, and UNH (Optum) in Part D." Jefferies expects the sector to "trade sideways at best" for the near-term.
"Who bears the financial brunt of a removal of Rx rebating in Part-D? Beneficiaries & the government," Jefferies writes. Assuming that the majority of prescription list prices don't decrease significantly from the proposed rule, "we believe that the parties who see the greatest financial impact would be the Federal government (elimination of rebates would translate to higher Part D bids from the plans) and seniors/Part D beneficiaries (who would see higher premiums)."
CVS, ESRX both hold, UNH a buy.
Leerink, David Larsen, Ana Gupte
Leerink's Larsen doesn't see "significant risk" to the pharmacy benefit managers CVS and Express Scripts on the removal of the safe harbor provisions "which could effectively remove the rebate system in the Medicare Part D market."
"We estimate that CVS and ESRX pass through 100% of rebates for Medicare Advantage (MA) plans that they support. For the prescription drug plans (PDPs), we believe that all of the rebates are disclosed to CMS, and those rebates are used to reduce premiums. If these rebates go away, the PDP plans would simply raise premiums. While EPS from all Medicare plans may be ~7-8% of total EPS for ESRX and CVS, we estimate that the rebate portion of the PDP plans is under 1% of EPS for CVS and ESRX. With regards to Commercial plans, we believe the PBMs have clauses in their contracts that would allow them to renegotiate with all parties in order to keep themselves whole."
Gupte particularly bullish on UNH and HUM "because they enjoy all three pillars of needed change to pharmaceutical spending and reform in Medicare across A) Part D, B) Medicare Advantage Part D (MA-PD) (with Specialty drug benefits), and C) an integrated PBM."
CVS, AET, CI, UNH outperform, ESRX market perform.
"Headlines have gone from bad to worse," Coldwell wrote in a note cutting ratings on AmerisourceBergen, Express Scripts and McKesson to neutral from outperform. "For those who disagree, ABC remains our preferred name and ESRX could materially outperform with the Cigna deal. We just can't justify putting fresh money to work in this environment."
He raised Amerisource, Cardinal Health, CVS Health, Express Scripts, McKesson, and Walgreens Boost risk profiles to higher risk from average, citing a lack of visibility for the sector.
"Outcomes could be very challenging for PBMs' opaque profit pools and lead to a gross-net bubble pop which could cause a long reset in distributor models."
"Massive pharmas are calling it quits on price inflation (e.g., Pfizer, Novartis) and now some are starting to cut list prices (Merck and we think more soon). Distributors' price inflation exposure may be less than before, but they're likely all too optimistic with guidance. Let's not be naïve – this wouldn't be happening if manufacturers didn't think that the Trump Blueprint would be providing a lot of relief in other areas."
ABC, CAH, CVS, DPLO, ESRX, MCK, OMI, WBA neutral, PINC outperform.
"Are rebates doomed in public insurance programs? Maybe not entirely … but new
restrictions are on their way," Veda policy analyst Perlman wrote. "We do not believe that the proposed rule will fully prohibit drug rebates in public health insurance programs," he said highlighting that the proposed regulation indicates it will establish "new safe harbor protection," meaning "the proposed rule likely does not intend to fully prohibit drug rebates, but rather to restrict their use under new rules."
"We believe a safe harbor will protect rebates from the AKS (anti-kickback statute), but only if the rebates fully benefit the end users – in this case, beneficiaries and taxpayers. It is not clear to us if HHS will permit rebates to be used to lower premiums or if it will require rebates to directly benefit the drug purchaser at the point-of-sale. We think it is most likely that some portion of rebates could be used to lower premiums."