State Street Slides on $2.6 Billion Charles River Purchase
(Bloomberg) -- State Street Corp. fell the most in almost three years on plans to spend $2.6 billion to acquire Charles River Systems Inc., a provider of investment data and analytics software.
The bank expects to suspend about $950 million of share repurchases and issue common and preferred equity to finance the deal, State Street said in a statement Friday. It also issued second-quarter results that exceeded analysts' estimates.
Financial companies are bolstering their use of technology to help clients assess risk and analyze assets. For Boston-based State Street, the purchase allows it to better compete with rivals who have relied on technology to serve clients. BlackRock Inc. has long been in this arena with its own software, known as Aladdin.
"Investment managers are under pressure to do more things with a single touch," State Street Chief Executive Officer Jay Hooley said on a conference call. "There is a clear trend in the world to create more integration."
State Street fell as much as 9 percent, the biggest drop since August 2015. It was down about 6.3 percent to $86.90 at 2:53 p.m. in New York. Before today, the stock lost 5 percent this year.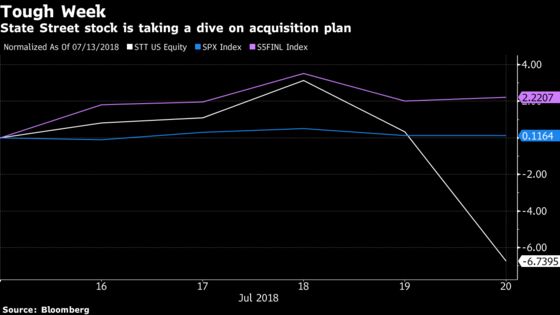 "Information delivered in a useful way is the most powerful tool we can provide to the market," Ronald O'Hanley, State Street president, said on the call.
But the addition of Charles River is being viewed by Wall Street with some skepticism. "The Charles River acquisition is interesting and can make some strategic sense, but not a slam dunk in our view," Evercore ISI analysts including Glenn Schorr wrote in a report Friday. There remain questions as to how the integration will work and how the firm will price the product, they said.
In an interview with Bloomberg Television on Friday, O'Hanley said investors will need some time to understand how the transaction fits into State Street's long-term strategy.
"This is meant to be accelerating growth and helping us to actually move into a revenue space that exists with our current clients but we don't have the full capabilities to access," he said. "So this is a pure growth play."
The company's customers -- including asset managers and hedge funds -- are responding positively to the news, said Lou Maiuri, head of State Street Global Markets and State Street Global Exchange.
"From a client perspective, it's been very well received," Maiuri said in an interview.
Charles River had $300 million in revenue in 2017 and provides solutions to automate front- and middle-office investment management functions, State Street said. The transaction is expected to be completed in the fourth quarter. Charles River is headquartered in Burlington, Massachusetts, and has 300 clients. Bloomberg LP, the parent of Bloomberg News, is a competitor in offering financial software to clients.
As to why State Street decided to buy a provider of the technology rather than build it internally, Maiuri said client demand is driving the need for services now.
"The reality is building things internally, starting this from scratch organically, it's a long journey," he said.
State Street reported second quarter adjusted earnings of $2.05 a share, beating analysts' estimates of $2.01. The company said assets under custody and administration rose 9.1 percent to $33.9 trillion and assets under management gained 4.5 percent to $2.72 trillion. The growth was driven in part by equity market appreciation.