Organic-Food Pioneer Drowned Out by Flood of Options in France
(Bloomberg) -- The booming market for organic foods is hurting one of the biggest European producers of those products.
Shares of Wessanen NV plunged the most on record Friday after the Dutch organic food maker reported lower-than-expected first-half earnings and said the company will be less profitable this year than previously forecast.
The problem? French consumers are embracing a flood of new organic brands, at the expense of Wessanen's Bjorg line of oat flakes, yogurts and soy milk, the company said in a statement Friday. At the same time, its attempt to raise prices in the U.K. backfired, prompting retailers to stock fewer of its products, Wessanen said.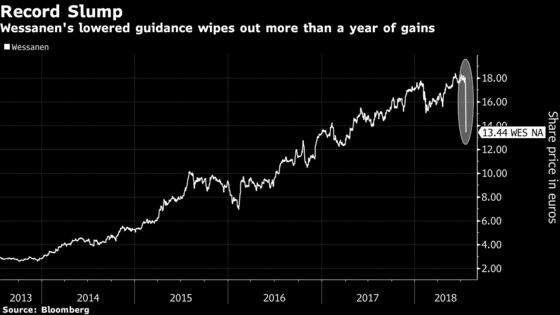 "While action plans are in place which we expect to improve our performance in the coming quarters, the impact of Q2 means that we finish the first half of 2018 below what we had planned," Chief Executive Officer Christophe Barnouin said in the statement.
Organic food sales jumped 12 percent in the European Union in 2016, according to statistics released this year by the trade group FiBL. That's far faster than food sales overall. Still, consumers increasingly are seeking fresh, local foods and artisanal brands, hurting producers of old-line packaged foods, even when they carry the organic label. Bjorg brand products have been on the market since 1988.
Wessanen's stock slumped 22 percent to 13.54 euros at 11:17 a.m. in Amsterdam, valuing the company at 1 billion euros ($1.2 billion). The intraday decline of 24 percent was the most since at least 1993, according to data compiled by Bloomberg.
Sales for Wessanen's own brands fell 0.3 percent. The decline was the first since Wessanen began breaking out those sales in 2015, according to ING analyst Reginald Watson. France and the U.K. are the company's two largest markets, making up about two-thirds of revenue.
"Clearly, the effect of softer advertising and promotion spend has been exacerbated by new entrants which have been attracted to the organic and health food segment by its relatively strong growth," Watson wrote in a report.
The company's corrective measures won't be strong enough to fully offset the weaker performance in the remaining part of the year, KBC Securities analyst Alan Vandenberghe said.
Wessanen now expects "moderate" instead of "strong" growth of own-brand sales. It also expects a profit margin at last year's level of 8.5 percent, down from prior guidance which saw its profit margin increase through 2018.