Most Metal ETPs Are Getting Killed Right Now. One Has Jumped 84%
(Bloomberg) -- The mayhem in industrial metals is creating waves across $1.4 billion of exchange-traded products tracking the sector.
Their prices are whipsawing, investors are bailing, and some may be profiting spectacularly from the sector's collapse.
Here's how the tumult is rattling through the passive-product industry.
Firms that extract copper have sold off, putting pressure on the $71 million Global X Copper Miners ETF, ticker COPX. The fund hasn't seen much flow in either direction, but its price has dropped to the lowest in more than a year.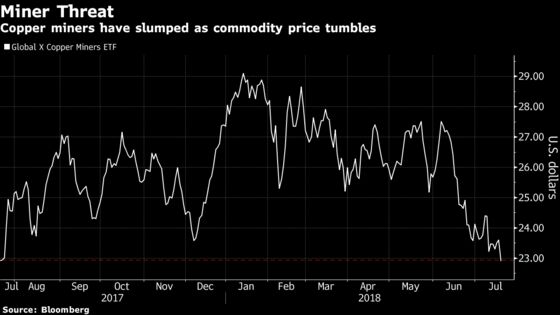 Vancouver-based First Quantum Minerals Ltd., one of the ETF's top holding, dropped as much as 8.2 percent on Thursday. Diversification may have helped the ETF, as it fell as much as 3.4 percent.
Investors pulled $43 million over the past five days from the largest industrial metals ETF -- the Invesco DB Base Metals Fund, ticker DBB -- the most since 2014. The ETF holds futures contracts on metals such as aluminum, copper and zinc.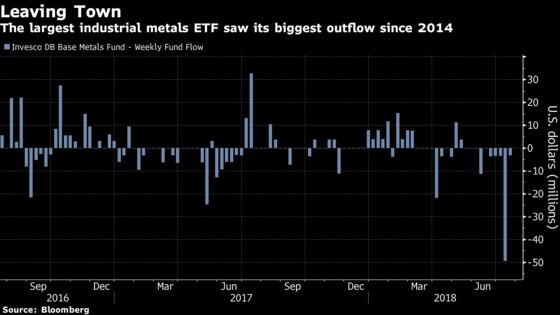 While copper has captured most of the headlines, zinc, lead, nickel and aluminum have also taken a dive as the yuan tumbles against the dollar, putting further pressure on buyers in China, the world's leading consumer of industrial commodities.
It isn't all carnage out there. One copper product is up 84 percent over the past month as of Thursday's close. The London-listed SG Copper x5 Daily Short ETN, ticker SG41, provides daily exposure to the price of copper futures at an expense ratio of 1.95 percent. The so-called inverse product is designed to gain when copper falls.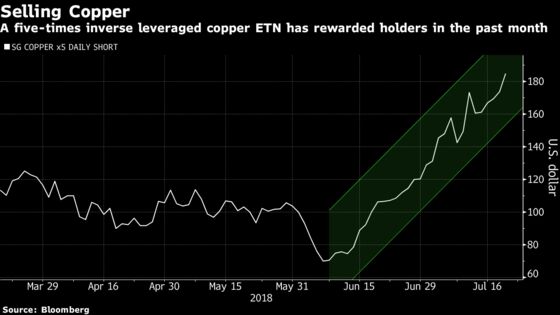 It's one of many thinly-traded notes listed in Europe that provide outsize exposure to movements across asset classes -- offering battle-ready investors an opportunity to pounce on the next commodity downturn.