Lula's Would-Be Heir Kicks Off Presidential Race in Brazil
(Bloomberg) -- Ciro Gomes, who hopes to become the standard bearer of Brazil's left in the October presidential race, got his party's official backing but still is struggling to forge alliances and broaden his appeal among voters.
Gomes' Democratic Workers Party, or PDT, was the first to endorse a candidate on Friday, kicking off a series of party conventions that will map out Brazil's election field over the next two weeks. The former Ceara state governor polls second or third in different opinion polls that exclude Luiz Inacio Lula da Silva, the jailed ex-president whose supporters he would like to win over.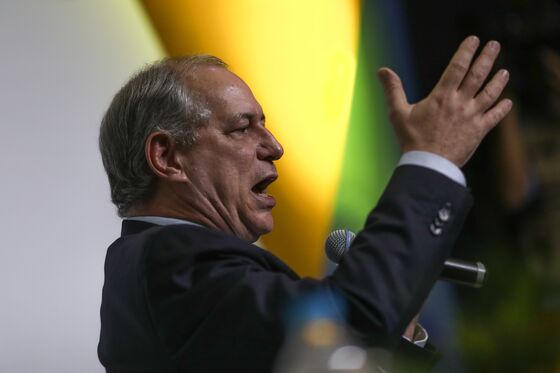 In the most uncertain election since Brazil's return to democracy in 1985, most candidates are having a hard time signing up allies. Gomes, like many of the leading contenders, went into his party convention without a running mate, a position typically offered to a coalition partner in return for support.
"I am not above or immune to mistakes," he said on Friday. "I can be wrong here or there because I never had the aspiration of being an angel."
In recent weeks, Gomes has courted the right-wing Democratas party as well as the socialist PSB party. In an attempt to win over Lula's voters, he has also sought a running mate from the Workers' Party, such as former Sao Paulo Mayor Fernando Haddad. Yet Lula's party has so far insisted on standing by the former president as its only electoral option, even though he will likely be barred from running.
"We always wanted an alliance with the Workers' Party; the trouble is that most of its members don't have the same opinion," Andre Figueiredo, the PDT leader in the lower house, told Bloomberg. "We have until August 5 to pick a VP candidate and to close alliances, so we're giving parties the time they need to make a decision."
Another challenge for Gomes is that his fiery temperament and controversial economic proposals tend to scare off part of the electorate and particularly the financial market. He has pledged to undo a 2017 law that liberalized the labor market and to also expropriate oil fields that have been recently tendered -- two proposals that have unnerved business leaders. More recently, he said he would consider using part of Brazil's foreign reserves to capitalize the country's development bank.
"He doesn't inspire trust and that undermines his efforts to secure support," said Deysi Cioccari, a political scientist at the PUC university in Sao Paulo. "Ciro Gomes is building the image of a distempered man that will require lots of political marketing to change."