Honeywell Jumps After Raising Profit View on `Widespread Growth'
(Bloomberg) -- Honeywell International Inc. jumped the most in more than a year after raising its 2018 profit outlook and citing "widespread growth" throughout its businesses.
Second-quarter sales, boosted by higher oil prices, increased U.S. defense spending and a rebound in business jets, rose 8.3 percent to $10.9 billion, according to a company statement Friday. Analysts' had predicted $10.8 billion.
"Overall a strong, high quality print, which reinforces our positive view,'' Steve Tusa, an analyst with JPMorgan Chase & Co., wrote in a note Friday. He said investors had expected the company to exceed -- and then raise -- its own profit forecast, "but this is better than expected.''
The company lifted its full-year earnings target to a range of $8.05 to $8.15 per share from $7.85 to $8.05. The year-end sales goal was increased to as much as $43.6 billion from $43.5 billion set in April.
Darius Adamczyk had pointed to weak sales as one of the areas he wanted to fix when he took over as chief executive officer last year. The economic rebound in the U.S. and Europe has energized his initiatives to hire more sales people, invest in startups, spin out underperforming businesses and create more new products.
Shares jumped 2.4 percent to $151.14 at 9:54 a.m. in New York after rising as much as 3.1 percent, the biggest intraday gain since April 2017. Honeywell had fallen 3.8 percent this year through Thursday, compared with a 1.8 percent decline on the 70-member S&P 500 Industrials Index.
Organic sales, which eliminates impacts from foreign exchange and acquisitions, rose 6 percent "driven by widespread growth across the business," Honeywell said in the statement. The company had previously forecast up to 4 percent growth. For the full year, Honeywell now sees organic sales growth of 5 percent to 6 percent, up from its earlier estimate of 3 percent to 5 percent.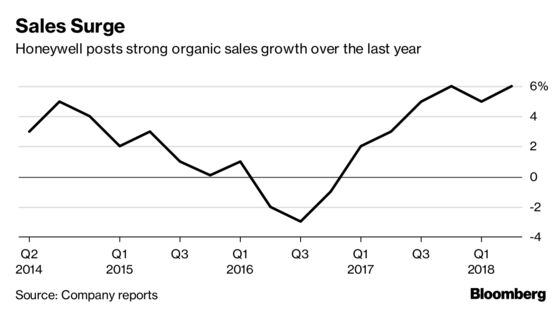 Honeywell, based in Morris Plains, New Jersey, is one of the U.S.'s largest conglomerates, offering goods from automation equipment to jet engines to refinery technology. A corporate tax cut, an $80 billion increase in U.S. military spending and crude prices that have climbed 40 percent from a year earlier all have added wind to the company's sails under Adamczyk's watch.
Activist investor Daniel Loeb's Third Point announced a stake in Honeywell less than a month after Adamczyk took over as CEO and immediately urged him to dump the aerospace business. Adamczyk's decision to hold on to the business has paid off as expanding sales of jet engines and cockpit controls have boosted earnings.
"Our end markets are strong. We're executing well, as evidenced by our margin and cash performance," Adamczyk said during a conference call with analysts. "I'm encouraged by our performance to date and expect more of the same in the second half."
Adjusted earnings per share were $2.12, compared with $1.80 a year earlier. Analysts had predicted $2.01, according to estimates compiled by Bloomberg.
The company forecast third-quarter adjusted earnings of $1.95 to $2 a share, while analysts had expected $1.96. Honeywell repurchased about $1.7 billion of shares in the first six months of 2018.
With Adamczyk's emphasis on growing sales, analysts have been keeping a close watch on the company's profit-margin gains, which had seen steady improvement under former CEO Dave Cote. Average margin from the business segments in the second quarter was 19.6 percent. The company had predicted margins would be as high as 19.5 percent.
Honeywell plans to spin off its automobile turbocharger unit by the end of September and the home-products segment, which includes the iconic Honeywell-brand thermostat, by the end of the year.