Congo Leader Says Delayed Vote Will Take Place in December
(Bloomberg) -- Democratic Republic of Congo President Joseph Kabila said delayed elections will take place in December, as he vowed to respect the constitution, which prevents him from seeking a third term.
"The course of the third electoral consultations fixed for next December remains maintained," Kabila, the winner of two elections over the past 12 years that were the first since 1960, said Thursday in the capital, Kinshasa. "Our commitment to respect the constitution also remains unequivocal."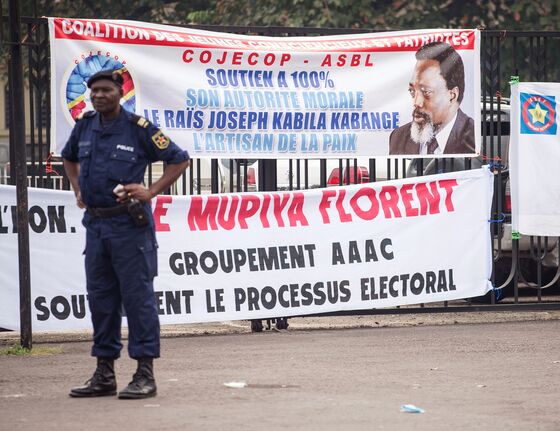 Despite the declaration, the president's persistent refusal to rule himself out of the vote continues to fuel speculation he may seek to change or reinterpret the constitution to run again. His true intentions may be revealed in the coming weeks, as presidential aspirants are required to register their candidacy with the electoral commission between July 25 and Aug. 8.
"We will see whether or not he respects the constitution," Fidele Babala, an opposition lawmaker, said in a phone interview.
Kabila was supposed to step down in late 2016 at the end of his second term, the limit under Congo's constitution, but elections weren't organized. The president opted to remain in office, sparking protests since then in which security forces killed dozens of people. Presidential and parliamentary polls are set to take place on Dec. 23.
Kabila came to power 17 years ago, after the assassination of his father and predecessor Lauren-Desire. Africa's biggest copper producer and the world's largest source of cobalt hasn't had a peaceful transfer of power since gaining independence from Belgium almost six decades ago.
Recent personnel changes at the Constitutional Court, where allies of the president replaced judges considered more independent, spurred concerns that Kabila will run again, while some allies have publicly backed Kabila's right to seek a third term.
An opposition group known as the Rassemblement has said it will refuse to participate in the elections if Kabila runs. Presidential candidates Felix Tshisekedi, the leader of Congo's largest opposition party, and Moise Katumbi, a former Kabila ally currently in self-imposed exile, are leading members of the Rassemblement.
An organization that represents Congo's powerful Catholic bishops has repeatedly said it strongly opposes any attempt by Kabila to remain in power beyond the approaching elections. Earlier this month, the Lay Coordination Committee, Catholic activists who organized a series of violently suppressed demonstrations between December and February, said they'll organize more protests from August if Kabila seeks a third mandate.
Kabila's absence from the polls is not the Rassemblement's only condition for taking part in the elections. The Rassemblement has also insisted the electoral commission remove 10 million voters from the electoral roll, which it claims are "fictitious," and abandons plans to use controversial voting machines, which it says increase opportunities for fraud.
The coalition will not "accompany the regime" in "a parody of elections," according to a statement issued Wednesday.
Adding to the uncertainty about Kabila's plans, Congo's parliament finalized a law on July 18 bestowing financial perks on former heads of state, which will complement a high level of legal immunity already granted by the constitution.