Amazon's Grocery Rival Kroger Shrugs at Prime Day Sales Numbers
(Bloomberg) -- That's all you got?
That's the message from Kroger Co., the U.S. brick-and-mortar grocery leader, in the aftermath of Amazon.com's Prime Day.
Consumers spent $4.2 billion during the event this year, according to an analyst's estimate, taking advantage of 36 hours of online deals. Amazon, which doesn't provide revenue numbers for Prime Day, said that it shipped more than 100 million products in the first 24 hours, despite technical glitches that hampered some sales.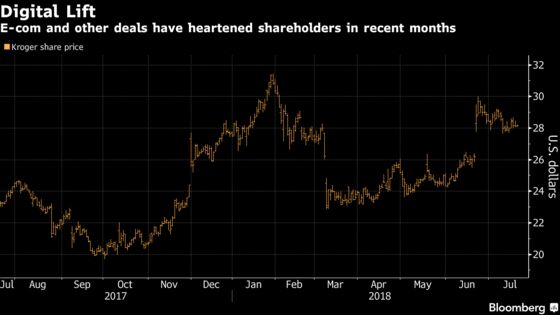 Kroger says it has that beat, at least in terms of products sold. Underscoring the dominance of traditional stores when it comes to groceries, the company sells about 110 million items at its almost 2,800 stores on an average day, pulling in about $340 million in revenue.
"It's easy to take for granted the scale of a company like Kroger," the company said in a statement.
This was Amazon's first Prime Day since it rattled the food world with its purchase of Whole Foods Market last year. The e-commerce giant uses the event to push discounts to members of its Prime service, who pay $119 a year to get perks like shipping discounts.
In the wake of the Whole Foods deal, Kroger and other grocery rivals have faced doubts that they can drive growth as Amazon dives deeper into the industry and pushes shoppers to buy more food online. Kroger has been making digital investments and recently increased its stake in British online grocer Ocado, known for automated warehouses where robots quickly fill orders. Kroger also offers traditional delivery services with partners like Instacart in some markets.
Amazon pushed more deals on food and household products during Prime Day this year, and sales of groceries were up 25 percent, according to Feedvisor.