Volvo Beats Profitability Target Amid Booming U.S. Truck Demand
(Bloomberg) -- Volvo AB exceeded its profitability target for the first time as price increases and more lucrative customer deals helped boost second-quarter profit more than analysts expected.
The world's second-largest truckmaker is seeing a strong increase in the demand for trucks and reaping the rewards of cost cuts implemented by Chief Executive Officer Martin Lundstedt, appointed in 2015 to address weak profitability. Less than a year after unveiling a target for an operating profit of more than 10 percent of revenue, the measure hit 11.1 percent in the three months through June.
More sales to smaller customers, higher prices and reduced costs linked to changes to the Mack-branded trucks in the U.S. helped lift Volvo's performance, Chief Financial Officer Jan Gurander said on a conference call.
An economic recovery in Europe and booming freight demand in the U.S. have left Volvo's factories running at full speed and struggling to secure vital components in time. That's forced the Gothenburg, Sweden-based company to seek out more costly options, including air freight. Supply constraints eased somewhat in the second quarter, though they continued to weigh on the results, primarily in North America.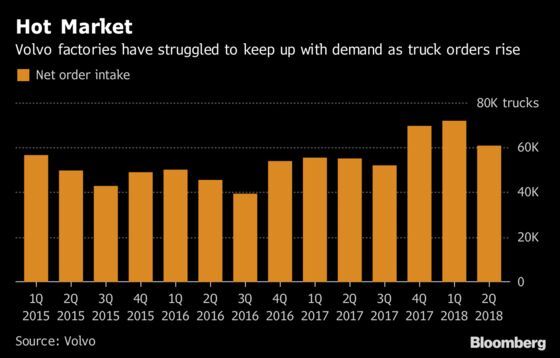 Second-quarter adjusted operating profit surged 37 percent to 11.5 billion kronor ($1.29 billion), Volvo said in a statement. Analysts surveyed by Bloomberg had estimated profit of 10.1 billion kronor, on average.
Volvo gained as much as 3.4 percent in Stockholm trading, the steepest advance since late January. The stock was up 1.5 percent as of 12:15 p.m. local time.
"Strong demand combined with cost reductions in the past have translated into these superb numbers," AlphaValue analyst Hans-Peter Wodniok said in a note. The results "allow us to raise our projections, in particular for the current year."
Volvo's total truck orders increased 10 percent in the quarter, driven by a 63 percent increase in North America. It still expects 300,000 new truck registrations in the North American market this year.