U.K. Casual Dining Takes Another Blow as Gaucho Collapses
(Bloomberg) -- The U.K.'s restaurant crisis shows no signs of letting up, with an operator of Argentine steakhouses this week becoming the latest to collapse.
London-based Gaucho Group Ltd. on Thursday cited high debt levels and poor performance at its 22 Cau burger outlets as it entered administration, the British version of bankruptcy protection. All of the Cau locations will close, costing 540 people their jobs, administrator Deloitte said in a statement.
The company, which also owns 16 Gaucho steak restaurants, is far from alone as food costs rise and more consumers opt to eat at home or splurge on something other than chain eateries.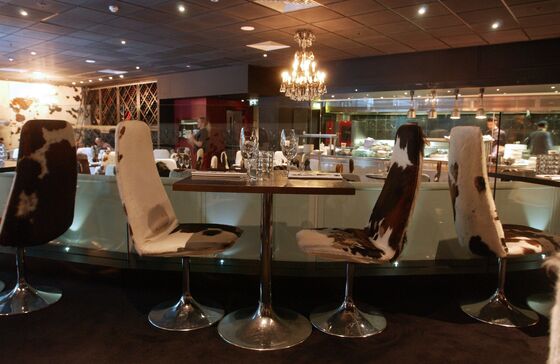 Jamie's Italian, Byron Hamburgers and TPG's Prezzo have moved to close sites. Strada and Carluccio's have announced rescue plans. Mediterranean restaurant chain Hummus Bros and designer Terence Conran's Prescott & Conran fell into administration last month.
While woes in the casual-dining scene are also apparent in the U.S., with chains from Applebee's to Bertucci's suffering recent reversals, Britain faces particular challenges. Labor costs have risen on an increased minimum wage, just as the U.K.'s coming exit from the European Union has reduced the pool of skilled waiters and chefs entering the country from places like Italy, Spain and France. The pound's decline since the U.K.'s 2016 Brexit referendum has made importing wine and food more expensive.
A strategy too focused on expansion may also be to blame. Many struggling restaurants opened at a time when rents were high, according to Anna Barnfather, an analyst at Liberum. And in a market so full of competitors, customers notice when restaurants cut costs. "Focusing on quality and service standards and not just on expansion is key," Barnfather said.
Television chef Jamie Oliver's Italian chain dismissed several midlevel managers responsible for quality control a few years ago, and quickly found its quality deemed "dreadful" by Harden's Best U.K. Restaurants, a dining guide.
Deloitte said in its statement Thursday that Cau had suffered from negative like-for-like sales for three years. The Gaucho restaurants will continue to operate while Deloitte seeks a buyer for the business, as well as for the Cau sites.
"Unfortunately the Cau brand has struggled in the oversupplied casual-dining sector, with rapid over-expansion, poor site selection, onerous lease arrangements and a fundamentally poor guest proposition all being factors in its underperformance," Deloitte partner Matt Smith said in the statement.