Swiss Watch Exports Have Biggest Half-Yearly Gain Since 2012
(Bloomberg) -- Swiss watch exports had their strongest first half in six years as demand for high-end timepieces rose in Asia and the U.S.
Shipments rose 11 percent to 10.5 billion francs ($10.5 billion), the Federation of the Swiss Watch Industry said in a statement Thursday. That's also the first time they breached the 10 billion-franc mark since 2015.
The trade group forecast a smaller increase for the full year because the industry faces a more difficult comparison base in the second half. Swatch Group AG Chief Executive Officer Nick Hayek said Wednesday that double-digit sales growth is possible this year for the largest Swiss watchmaker.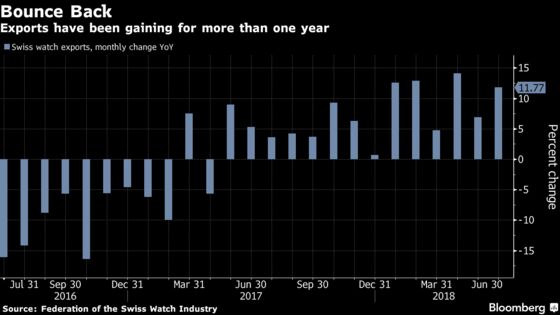 Other highlights include:
First-half shipments to Hong Kong jumped 30% and rose 13% to China; up 9.1% to U.S.
Watches priced at less than CHF200 saw downturn, particularly in volume terms
Strongest growth by price point recorded by watches wholesaling for CHF500 to CHF3,000, up 17%
Swiss watch exports in June rose 12%