Summer Heat Has Canadians Using Power Like It's Hockey Season
(Bloomberg) -- Texas is dominating the heat-wave headlines right now, but above-average temperatures in Western Canada have people using almost as much power as during the depths of the region's frigid winters.
As residents blast air conditioners and fans to stay cool, electricity demand in Alberta reached a record 11,134 megawatts on Tuesday afternoon. That exceeded last summer's peak of 10,852 megawatts across the power market run by Alberta Electric System Operator.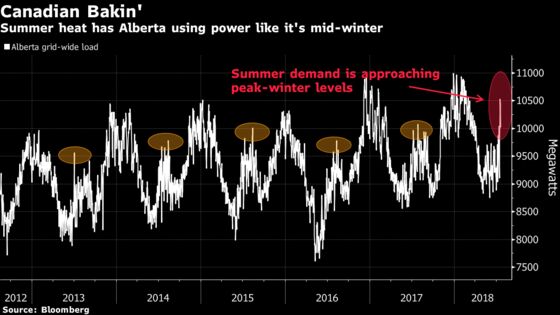 Yes, winter is still a bigger driver for power use -- the all-time record demand of 11,697 megawatts came on Jan. 11, according to the provincial grid operator. However, peak electricity consumption in the summer months in recent years has been comparable to mid-winter loads.
Edmonton has had 31 days since June 1 where temperatures exceeded historical averages, with only 14 below-average days, according to data compiled by AccuWeather.