European Utilities Drop as SSE Warns Dry Weather to Hit Profit
(Bloomberg) -- European utilities fell after U.K. energy company SSE Plc said the dry, mild weather that cut quarterly profit could hurt full-year results.
The Stoxx Europe 600 Utilities index dropped to a two-week low, led by Orsted AS, the world's biggest offshore wind-farm developer. SSE, the second-worst performer, fell the most since May and U.K. energy supplier Centrica Plc slumped for a fifth day.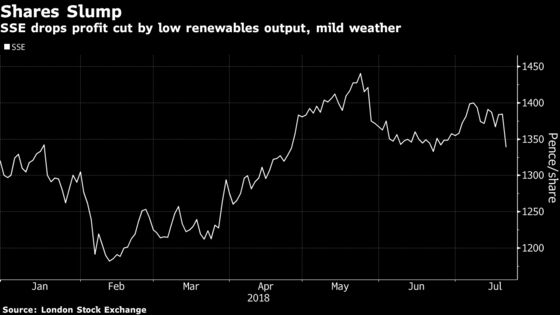 "We expect SSE to be off on this news this morning," John Musk, utilities analyst at RBC Europe Ltd said. "Centrica will likely be impacted due to the cross read on gas demand. We expect U.K. renewable wind operators could be impacted as well."
Output from SSE's hydro and wind assets was lower than expected in the three-months through June while mild temperatures meant that household gas demand was 10 percent less than forecast, the U.K. utility said in a trading statement Thursday. Combined with "persistently high" gas prices, adjusted operating profit was cut by 80 million pounds ($104 million) compared with SSE's plan.
Unfavorable weather will add to pressure on U.K. utilities as the government puts into motion a bill to cap the amount household energy suppliers can charge customers on default tariffs by the end of the year. SSE has 2.28 million electricity and 1.53 million gas accounts that will be affected.
SSE fell as much as 3.4 percent, the most since May 29, and traded at 1,342 pence at 9:39 a.m. in London.
The utility confirmed a full-year dividend of 97.5 pence per share for this year.
Perth, Scotland-based SSE is holding its annual general meeting on Thursday and investors will vote on the retail merger with Innogy SE's Npower. The details of the transaction were set out in a June 27 circular that was sent to the Financial Conduct Authority.
The U.K. antitrust body, the Competition and Markets Authority, announced on May 8 that it will carry out a more thorough probe into the merger. The deadline for the final report is Oct. 22.
SSE said the transaction is on course for completion in this financial year.
Katie Bickerstaffe was appointed chief executive officer designate and is expected to take up her role on Sept. 24. Gordon Boyd, the new chief financial officer designate, was due to start this month.