S. Africa Reserve Bank Warns of Price Risks as It Holds Key Rate
(Bloomberg) -- South Africa's central bank warned of upside risks to inflation as it held the key interest rate at a two-year low.
The Monetary Policy Committee unanimously decided to keep the repurchase rate at 6.5 percent Thursday. All 15 economists in a Bloomberg survey predicted the freeze.
The rand had its worst month in more than two years in June as the U.S. and China exchanged tariff blows at a time when the prospect of rising American rates also weighed on emerging-market assets. The weaker currency and higher oil-price assumptions will increase the inflation trajectory, Governor Lesetja Kganyago told reporters in Pretoria, the capital.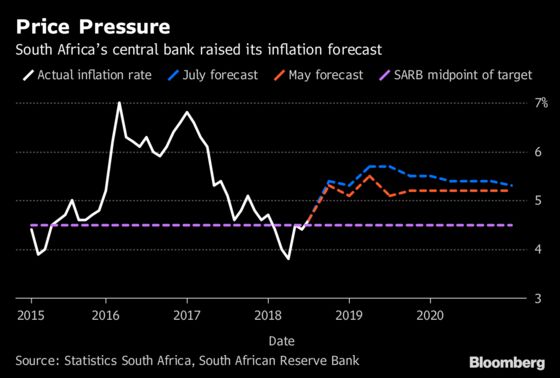 The annual inflation rate, which reached a seven-year low in March, rose to 4.6 percent last month after gasoline prices climbed. That's just above the midpoint of the target band of 3 percent to 6 percent. The rate will peak at 5.7 percent in the first half of next year, according to the MPC.
"Indications are that we have passed the low point of the current cycle," Kganyago said. "Developments in the international environment have placed upward pressure on the inflation trajectory, while the domestic growth outlook remains challenging."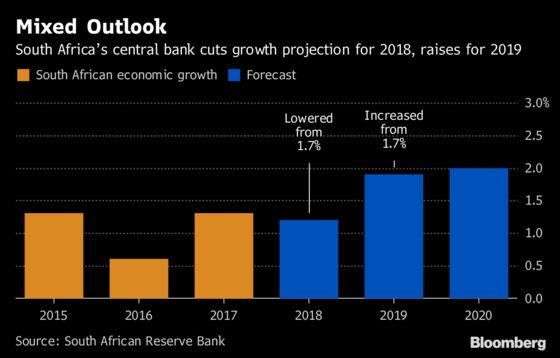 What Our Economist Says
"We still expect policy to continue to be driven by the desire to avoid a more than temporary breach of the 6-percent ceiling of the inflation target and reduce expectations for price growth one- and two-years ahead. To this aim, we expect the SARB to continue to talk tough but stay put in the second half of the year."

Mark Bohlund, Bloomberg Economics
The MPC also held borrowing costs unchanged in May after cutting last July and in March. Consumer-price increases have lagged economists' median estimates for the past five months and forward-rate agreement show traders have cut their bets for an rate increase this year.
"The rand is a massive risk to the inflation outlook, but until they actually see the currency push inflation beyond the target band, then there's no real reason to increase rates," Gina Schoeman, an economist at Citigroup Global Markets, said by phone.
The central bank cut its projection for 2018 economic growth to 1.2 percent, below last year's rate of 1.3 percent. While Africa's most-industrialized economy contracted in the first quarter, a recession is unlikely as the central bank sees "modest" expansion in the second quarter, according to Kganyago.