Japan's Inflation Inches Higher Thanks to Energy Costs
(Bloomberg) -- Japan's inflation picked up slightly in June, largely because of higher energy costs. There was little to suggest price gains will accelerate toward the 2 percent target anytime soon.
Highlights
Core consumer prices, which exclude fresh food, rose 0.8 percent in June from a year earlier (estimate 0.8 percent)
Stripping out fresh food and energy, prices climbed 0.2 percent (estimate 0.4 percent)
Overall prices increased 0.7 percent (estimate 0.8 percent)
Weakness in inflation has reduced speculation that the Bank of Japan may start tightening its ultra-loose monetary policy. While the BOJ's yield-curve control program has allowed it to ease back the throttle on bond purchases, monetary policy is harming the profitability of commercial banks and distorting markets. Without rising energy prices, the picture would be bleaker for inflation. The next clues to the BOJ's thinking come on July 31, when policy makers provide updated forecasts on prices and growth. Private economists and investors have questioned the BOJ's assertion that inflation momentum has been maintained.
What our economist says ...
"The bigger picture is that all the measures show inflation is miles from the Bank of Japan's 2 percent target," said Bloomberg Economics' Yuki Masujima. He added that the basic drivers of inflation remain intact and the BOJ can afford to be patient.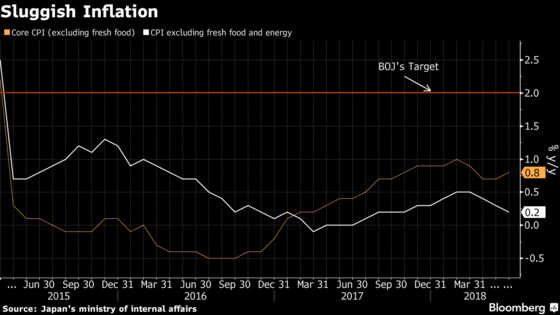 "These latest June CPI numbers are going to be another heart breaker for the Bank of Japan," Izumi Devalier, head of Japan economics at Bank of America Merrill Lynch, said on Bloomberg TV after the release. "In terms of actual changes to YCC, the 10-year target or of course the negative interest rates, I don't think the Bank of Japan is anywhere close to signaling a policy move," she said.
"The labor market continues to tighten and it's not resulting in meaningful inflation pressures," Devalier said. "I think it could fall potentially further, but the main problem here is that despite the increase in wage costs and cost pressures, inflation expectations among corporates are still very weak."
Junko Nishioka, chief economist at Sumitomo Mitsui Banking Corp., said higher oil prices are likely to help Japan's inflation but an increase in gasoline prices can start hitting consumers.
Nishioka expects the BOJ to explain further after its next meeting why inflation has struggled to rise in Japan. The bank will likely use the explanation to make the case why it needs to maintain the current monetary easing, she said before the data release.