Bank Indonesia Stays Hawkish as It Keeps Key Rate on Hold
(Bloomberg) -- Indonesia's central bank left its benchmark interest rate unchanged after three hikes in a row helped to stabilize the currency in Southeast Asia's biggest economy.
The seven-day reverse repurchase rate was held at 5.25 percent on Thursday, in line with the forecasts of 25 of the 28 economists surveyed by Bloomberg. Governor Perry Warjiyo said the policy stance remains "hawkish" with the central bank's focus on economic stability.
A total of 100 basis points of rate hikes in the past two months, including a bigger-than-expected half-point increase on June 29, have helped restore confidence in financial markets and give policy makers some breathing room. Investors have pumped more than $475 million into government bonds this month following weeks of outflows amid a global emerging market sell-off triggered by rising U.S. interest rates.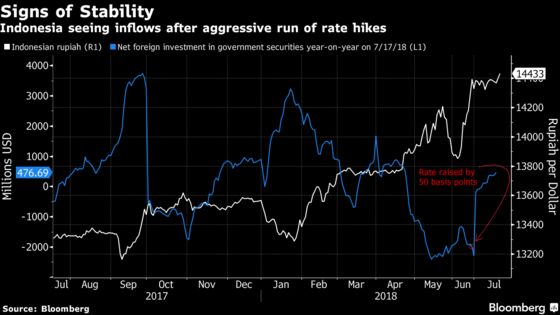 "We think there's still room for the central bank to raise interest rates further this year, should pressure on the rupiah resurface amid global financial volatility," said Wisnu Wardana, an economist at PT Bank Danamon in Jakarta.
While the local currency is down about 6 percent against the dollar this year and among the worst performers in Asia, the pace of its slide has slowed. The rupiah dropped 2.4 percent against the dollar between the first rate hike on May 17 and the third one on June 29, and has been stable since then.
"We want to emphasize that Bank Indonesia's stance is still hawkish," said Warjiyo. "Our focus is still on maintaining economic stability, especially the rupiah exchange rate. This is because we see that our previous rate hikes, which amounted to 100 basis points, have made us competitive enough to provide room for foreign capital inflows."
The rupiah strengthened briefly after the decision, but was down 0.2 percent to 14,433 against the dollar as of 4:20 p.m. in Jakarta, falling along with other emerging-market currencies tracking a slump in China's yuan to a one-year low. The yield on Indonesia's 10-year sovereign bonds rose 1 basis point to 7.795 percent, according to data compiled by Bloomberg.
"I see USD/IDR consolidating for now but rupiah remains susceptible to external market turmoil," said Gao Qi, Singapore-based foreign exchange strategist at Scotiabank. "If needed, BI will definitely raise its policy rate again."
A benign inflation environment and sluggish growth outlook are more reasons for Warjiyo and his policy board to pause for now. Consumer price growth eased to 3.1 percent in June, staying within the central bank's 2.5 percent to 4.5 percent target band.
The government has trimmed its economic growth forecast for 2018 to 5.2 percent from 5.4 percent, while business groups have warned of the impact of a weaker rupiah and higher borrowing costs.
Key Comments from Governor Perry Warjiyo:
"The decision to hold the rate is in line with BI's efforts to maintain the attractiveness of domestic financial markets amid high uncertainties in global financial markets. Hence, this step is expected to pave the way for us to maintain economic stability, especially in terms of rupiah stability"

"Bank Indonesia will strengthen its coordination with government and relevant authorities in a bid to maintain stability and push for the implementation of structural reform to lower the current-account deficit. This coordination includes generating higher foreign exchange from the tourism sector and increasing infrastructure financing from private sector"

"Bank Indonesia will undertake various measures, including by expanding instrument options in the money market, including through the use of hedging, whether call spread or swap, so that these will support our stabilization efforts, especially the ones to stabilize rupiah exchange rate"