IBM's Rally Defies Wall Street's Lingering Doubts About Its Turnaround
(Bloomberg) -- Wall Street still has questions about the transformation underway at International Business Machines Corp. even as a second-quarter earnings beat sent the shares up more than 3 percent Thursday. Several analysts cut their price targets on the stock, with Morgan Stanley and BMO both calling out shortfalls in cognitive revenue. Meanwhile, Wedbush said it's looking for management to take more aggressive restructuring actions in order to unlock shareholder value.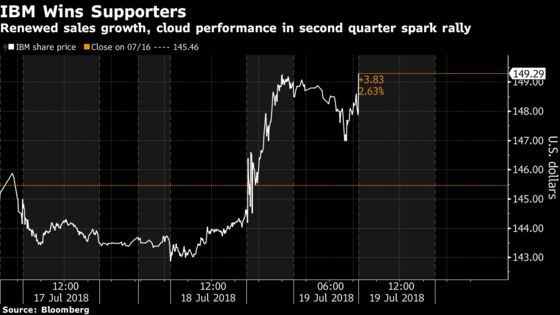 Here's what analysts are saying:
Morgan Stanley, Katy Huberty
The quarterly beat "builds hope that IBM's transformation is playing out."
Morgan Stanley still sees work that needs to be done to improve cognitive revenue and stabilize gross margins. Huberty says another solid report in the third quarter could lift shares "more meaningfully."
Overweight, cuts price target to $185 from $198
BMO Capital Markets, Keith Bachman
"We believe that IBM demonstrated progress on the services side, but we view cognitive results as disappointing. While systems was better than our forecast, we do not view systems as a durable business so we focus on services and cognitive."
Bachman says investors will be "modestly encouraged" by second-quarter results and the narrative around the remainder of 2018, but wil choose to stay on the sidelines. Outstanding questions on IBM's ability to meaningfully grow revenue, operating income and free cash flow are expected to keep the stock range-bound.
Market perform, cuts price target to $172 from $175
IBM still has "more wood to chop" but there are reasons to be optimistic. Grossman says the turnaround in services remains the primary catalyst that will drive estimates and the multiple higher for the next 12 months.
Stifel says some questioned the sustainability of revenue momentum and margin expansion -- particularly given the mainframe cycle anniversary in September -- but the "market is overlooking tailwinds" from the first-quarter rebalancing and leverage from services growth.
"We continue to like IBM as a defensive name with dividend yield and potential catalysts as these underlying drivers are better understood."
Buy, price target cut to $178 from $182
"We could become more constructive on the stock if/when management takes more aggressive restructuring actions, which we believe could unlock shareholder value."
Wedbush says revenue growth, profitability and returns continue to be affected by the "cannibalization" of IBM's legacy-based services and products, as repositioning into digital remains challenging.
Maintains neutral rating, $185 price target
"IBM conveyed increased optimism in services that appears to reflect a combination of a broadly healthy demand environment and its own restructuring actions."
"Overall, positive trends bode well for the group and mostly affirm quarter-to-date results & commentary."
Bloomberg Intelligence, Anurag Rana and Gili Naftalovich
"IBM results recovered on improving global tech spending, mirroring other IT-services providers such as Accenture and Tata Consultancy Services."
"Prudent cost management, along with reduced general and administrative expenses aided pretax income margin expansion of 110 bps to 16.9%. Profitability should continue to improve as the year progresses."