GE Investors Looking for Calm This Quarter After Painful Slide
(Bloomberg) -- Don't be surprised if there are fewer fireworks than usual when General Electric Co. briefs investors on Friday.
As the troubled manufacturer gears up to report second-quarter earnings, shareholders are looking for something resembling a return to normalcy, including a reaffirmed outlook and, hopefully, no more nasty surprises. Even better if there are signs that the turnaround plan is on track.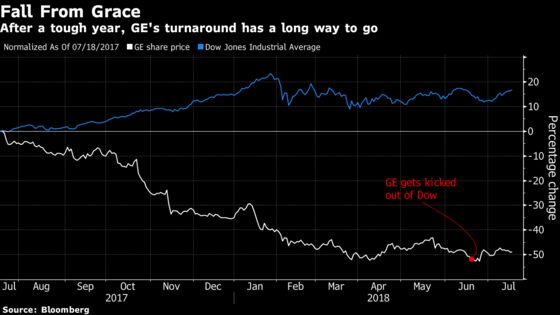 After one of the most turbulent and transformative quarters in GE's history, investors are eager to see whether the changes underway can halt a slide that has wiped out about $114 billion of shareholder wealth in a year. Chief Executive Officer John Flannery has promised a renewed focus on execution while shrinking corporate operations, improving cash flow and making the portfolio smaller and less complex.
GE has already calmed investor anxiety over a possible dividend cut. Flannery recently pledged to keep the payout steady for at least a year, until a recently announced separation of the health unit is complete. That "helped signal that there are no near-term liquidity issues," RBC Capital Markets analyst Deane Dray said, while warning that GE is by no means "out of the woods."
"Much has to go well with all of the divestitures, and Power remains in a protracted downturn that could last years,'' he wrote in a note to clients. "Actual second-quarter earnings will seem like an afterthought.''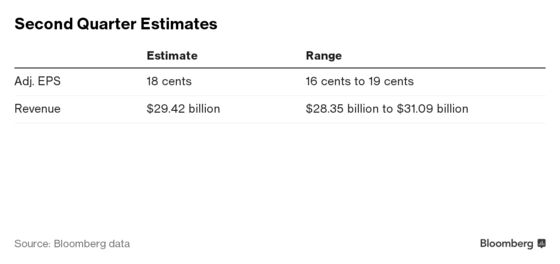 Here are the top things analysts and investors will be watching for when GE reports on Friday, before the market open.
GE's profit outlook for the year continues to be a closely followed number, especially given all the changes the company has recently announced. The Street is not reflecting much optimism, with the consensus standing at 95 cents per share, compared with the company's guidance of $1 to $1.07 per share.
Analysts were split on whether GE would confirm the market's concerns. While RBC's Dray expects the company to lower its annual forecast, Barclays Capital Inc. analyst Julian Mitchell does not. If a cut looked inevitable, Flannery "would have taken the opportunity to do this alongside the strategic announcements" last month, when the CEO announced the health-care unit spinoff and other changes, Mitchell wrote in a note.
A key focus will be GE Power, the turbine-making unit that has dragged down the parent company amid a slump in the global gas-power market. Flannery spooked investors during a presentation in May when he said there was no "quick fix" for the ailing unit, which may not recover for several years.
According to three analysts polled by Bloomberg, the unit is expected to earn $415.3 million during the second quarter, representing a decline of nearly 60 percent over the same quarter last year.
Barclays' Mitchell expects declines in the troubled segment to offset growth in other businesses. "We forecast ongoing pressure on shipments on original equipment and Advanced Gas Path in Power for the remainder of the year," he said.
Under Flannery's revitalization plan, power will be one of GE's few remaining businesses, alongside renewable energy and aviation.
GE's finance arm continues to weigh on the parent company even after significant efforts to shrink and sell lending businesses in recent years. GE Capital still has lingering liabilities, including a defunct subprime-mortgage unit, and Flannery shocked investors earlier this year by revealing a much larger-than-expected issue with an old insurance portfolio.
The CEO has said he's working aggressively to reduce the risk in GE Capital, including potentially offloading the insurance obligations. Shareholders are eager to see progress.
"While investors remain concerned about another shoe to fall in GE Capital, we note that the $3 billion equity contribution to GE Capital anticipated in 2019 should put the unit's 2019 book value on track for $8 billion to $9 billion prior to any losses from asset sales," Gabelli & Co. analyst Justin Bergner wrote in a note dated July 17.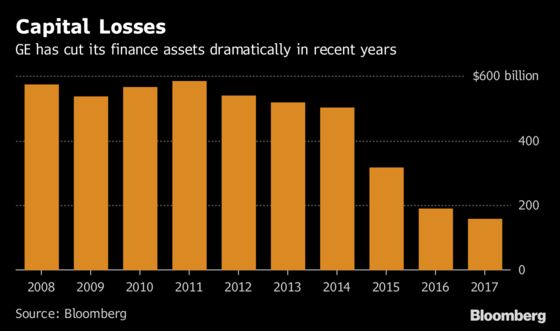 Flannery took significant steps during the quarter to reshape the company, announcing both the health-care spin and plans to back out of the oil and gas market. Investors will be looking for more details on progress, rather than any new divestment announcement.
"GE's well-received turnaround plan" is expected to mark a turning point in investor sentiment for the stock, RBC's Dray said. "With the game-plan now revealed, the next step is for GE to execute."
In May, GE reached an $11.1 billion deal to merge its locomotive unit with Wabtec Corp. It also agreed to sell its industrial gas-engine business to Advent International for $3.25 billion in June, and unloaded a medical information-technology division for $1.05 billion in April.