Ex-Traders Bittar, Moryoussef Get Combined 13 Years in Jail
(Bloomberg) -- Former traders for Barclays Plc and Deutsche Bank AG were sentenced to a combined 13 years in prison by a London judge for conspiring to rig interest-rate benchmarks.
Christian Bittar, a 46-year-old Deutsche Bank employee, was sentenced to five years and four months, while the man described by prosecutors as his fellow mastermind in manipulating the market, Barclay's Philippe Moryoussef, received 8 years. The 50-year-old Moryoussef was sentenced in absentia after staying in France to avoid the trial.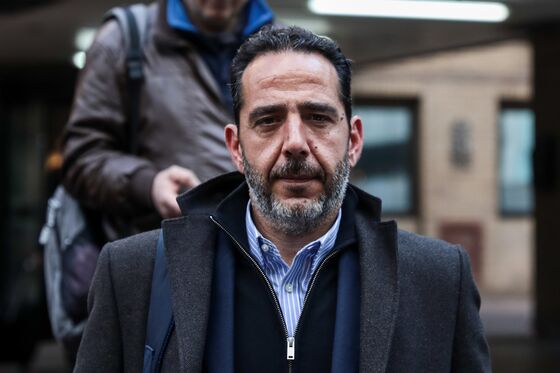 Bittar and Moryoussef were friends who vacationed together and made millions coordinating derivative trades, but their paths diverged in the weeks before the trial started in early April. Bittar has been in a London jail since pleading guilty to the fraud charge on March 2, while Moryoussef left London, and has since said he will try to avoid the U.K. judicial system.
"Derivatives trading is often said to be a form of betting," Judge Michael Gledhill said when sentencing Bittar. "You took the analogy further by loading the dice."
In addition to the plea, Bittar, who earned a near 90 million-pound ($117 million) bonus in 2008, agreed to pay 3.3 million pounds in costs and penalties. The judge considered giving him 9 years in prison, but reduced it because of his guilty plea and the toll the investigation has already taken on his life.
As perhaps the world's best derivatives trader, Bittar was probably not motivated by greed, but rather by the satisfaction of being able to beat the system without being detected, Gledhill said. At times, he planned his actions months in advance, he said.
The Euribor trial brings the U.K. Serious Fraud Office's seven-year investigation into interest rate rigging close to an end. Deutsche Bank and Barclays are among financial institutions that paid more than $9 billion in fines in the U.K. and U.S. for the misconduct. SFO prosecutors won convictions for seven of the 19 individuals charged with rate-rigging offenses. The jury that found Moryoussef guilty was unable to reach a verdict on three of his former colleagues.
"Both the banks and some of their employees fell far short" of standards, Gledhill said. "Senior managers should've known what was going on and should've stopped it."
Wearing a loose-fitting dark blue suit and salt-and-pepper stubble, Bittar showed no reaction as the sentence was read out in front of a packed court room.
U.K. prosecutors will seek a new trial in January for Colin Bermingham, Carlo Palombo, and Sisse Bohart in the case after the jury failed to reach a verdict on the three former Barclays traders. The panel found Deutsche Bank AG executive Achim Kraemer not guilty. Ten jurors who delivered verdicts in the case last week attended the hearing Thursday, with the judge thanking them for returning.
The sentences for Bittar and Moryoussef are the latest in a wave of jail terms related to financial wrongdoing. Former UBS Group AG trader Tom Hayes is serving 11 years in prison for rigging Libor and in May, an ex-Deutsche Bank AG broker received a record 4 1/2-year term for insider trading. 
Bittar and Moryoussef's crimes were committed between 2005 and 2009, when they were derivatives traders. They wanted to improve their trading position by convincing Euribor setters at their banks to enter higher or lower values, depending on what suited them.
Moryoussef may not have been as successful as Bittar, but he took a leading role in the mechanics of the fraud, communicating more with colleagues at other banks, Gledhill said. He also tried to keep the misconduct quiet, repeatedly telling others not to mention anything, the judge said.
"The evidence against Mr. Moryoussef was overwhelming," the judge said. "Greed was clearly his principle motive."
In an emailed statement, Moryoussef said the sentence was unconnected to the facts of the case, and violated his rights. He said he will take the case to the European Court of Human Rights.
Moryoussef's decision to skip the trial didn't affect the sentence, but will lead to separate contempt of court proceedings, Gledhill said. He said a letter from Moryoussef's French advocate explaining why he wouldn't attend trial was "impertinent," adding that it would've led to a contempt of court case had it come from an English lawyer. Moryoussef also still faces attempts to claim costs and penalties.
Euribor is the euro-interbank offered rate, a benchmark made up by submissions for dozens of lenders, who measure the cost of borrowing between each other. The published value is the average of the submissions after the top and bottom 15 percent have been eliminated.
The judge criticized the way Euribor was organized. The lack of clear instructions on how to set the rate was "at best foolhardy and at worst, negligent," he said.
Prosecutors said Bittar was the best-paid trader they'd ever come across. He had developed such a powerful reputation that he was able to craft a deal to take home a slice of his earnings for the bank.
(An earlier version of this story was corrected to fix the former employers of the traders.)