Electric Cars Seen Imperiling U.S. Jobs by a Rare Trump Backer
(Bloomberg) -- The lonely voice to speak up in support of the Trump administration's investigation into U.S. auto imports warned the rise of electric vehicles could be dire for American jobs.
In comments that were aberrations amid an hours-long chorus of criticism, the United Auto Workers laid out a case for the U.S. Commerce Department's probe of imported cars and components on national security grounds. The union's research director, Jennifer Kelly, said the U.S. produced fewer vehicles last year than in 2000 and blamed low-wage countries including Mexico and China for widening America's auto-parts trade deficit with the rest of the world.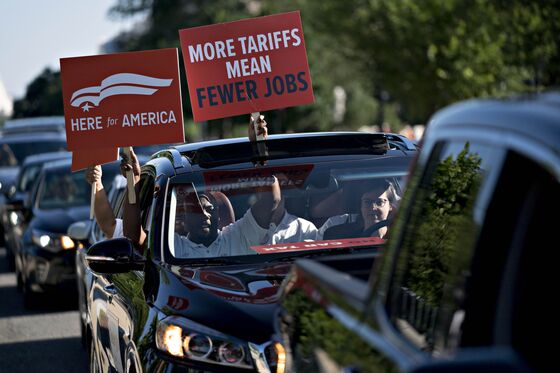 Auto workers risk seeing their woes worsen as the industry shifts to high-tech vehicles powered by advanced batteries and chips, Kelly said Thursday during a hearing in Washington. The U.S. produces just 13 percent of the world's semiconductors, and by 2021 it's expected to make just 14 percent of lithium-ion batteries. Without government policies to aid domestic production of those components, those building fuel-burning engines and transmissions will be out of work, she said.
"The workers who are making engines and transmissions today, their jobs will be eliminated when we make a transition to electric vehicles," Kelly said, citing South Korea, Japan, Taiwan and China's dominance making semiconductors and batteries. "We're looking at a considerable net job loss just in that technological transition."
The Commerce Department began investigating whether imported vehicles and components undermine national security in May, and President Donald Trump is said to be considering import duties of as much as 25 percent. Among more than 20 representatives from auto industry groups, car-parts suppliers and other organizations to testify Thursday morning, only the UAW supported the administration's probe, with Kelly calling it "long overdue."
The union stopped short endorsing new tariffs. Instead, Kelly called for "targeted" actions to encourage additional investments in U.S. manufacturing. In her prepared remarks, she said better access to education, workforce training and infrastructure investment would aid that effort.
"We caution that any rash actions could have unforeseen consequences, including mass layoffs of American workers, but that doesn't mean we should do nothing," she said.