A Breakup Lesson for Sprawling Conglomerates
(Bloomberg Opinion) -- Danaher Corp.'s breakup-in-stages offers lessons for other sprawling industrial companies.
The $73 billion maker of life-science equipment and water-purification technology on Thursday announced it would spin off its dental unit. It's a move that I've long argued makes sense. This is Danaher's second spinoff in about as many years, having separated out its Fortive Corp. industrial tools business in 2016. Fortive has essentially become a Danaher 2.0, and its success is proof that applying the company's vaunted operating system and acquisition-driven strategy on a more focused scale pays off. But at Danaher 1.0, the transformation felt incomplete. 
The dental unit has been a sore spot for Danaher amid otherwise strong organic growth and profitability. Talking about and trying to fix that business sucked up an increasing amount of executives' time. And while there are signs that efforts to cut costs and invest in new growth initiatives at the dental unit are yielding results, the turnaround efforts had undoubtedly become a distraction and both companies should be better off as separate entities.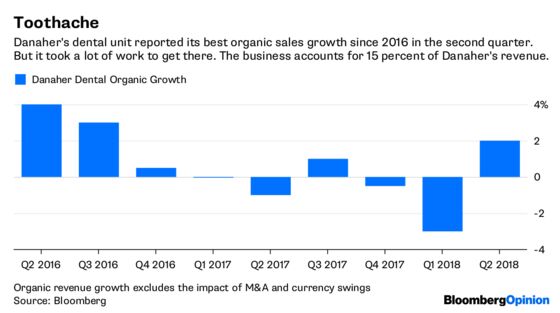 RBC analyst Deane Dray points out that Danaher was already trading at a premium to his sum-of-the-parts value, and yet shares of the company spiked more than 7 percent on news of its breakup. Sum-of-the-parts estimates are more art than science and
often underestimate
the opportunities afforded by a breakup. It's hard to handicap what more focused management teams can do with costs and growth initiatives once they're unshackled from a larger parent company. But judging from the market reaction, the early verdict from investors is that the only thing better than two Danahers is three Danahers.
Danaher's decision to part ways with its dental business is also another data point against partial breakups for diversified industrial companies. While the idea behind these shake-ups is to simplify and focus the companies, they are still by and large conglomerates with disparate businesses that aren't apt to perform well at the same time. Arguably, removing one bad-apple unit that's been a drag on performance just refocuses investors' attention on the next bad apple. If you as a CEO are having to repeatedly defend and explain the synergies between your business units, that's not a good sign.
Johnson Controls International Plc is also exploring options for a battery unit that many viewed as a misplaced holdover after the company's divestiture of its Adient automotive-parts division and merger with Tyco International. It makes me wonder whether the wave of splits we've seen at other industrial companies — including Honeywell International Inc., Dover Corp. and General Electric Co. — may only open the door to more.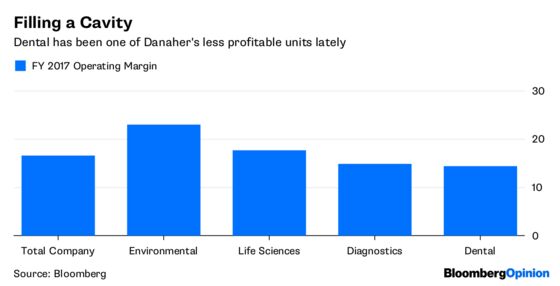 GE last month announced plans to spin off its health-care unit and sell down its stake in its Baker Hughes energy business. That leaves the embattled industrial giant with a rock-star aviation unit, a troubled power division and a renewable-energy business that's facing significant margin pressures. As I said at the time, I'm optimistic this move will help set GE on a better path, in large part because CEO John Flannery also plans to run its remaining divisions more independently post-split. That could be the one path that makes a partial breakup work. But the onus is on GE to prove that, and the evidence doesn't work in its favor.   
Brooke Sutherland is a Bloomberg Opinion columnist covering deals and industrial companies. She previously wrote an M&A column for Bloomberg News.