Aramco Considers Buying a Stake in Sabic Ahead of Planned IPO
(Bloomberg) -- Saudi Aramco may buy shares in chemical producer Saudi Basic Industries Corp. from the country's sovereign wealth fund as the world's biggest crude oil exporter expands its business ahead of a planned initial public offering.
The state oil producer "is engaged in very early-stage discussions with the Public Investment Fund regarding acquiring a strategic interest in Sabic by way of a private transaction," Aramco said in a statement. The company has no plans to acquire any publicly held shares in Sabic, as Saudi Basic Industries is known, it said. The state-run PIF, which owns 70 percent of Sabic, confirmed the talks in a separate statement.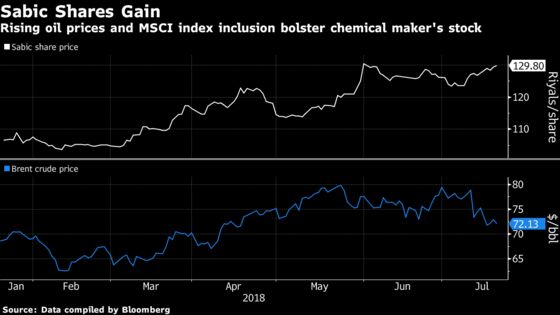 Middle Eastern crude producers are expanding their refining and petrochemical businesses to squeeze more profit from the oil they pump. Governments in the region are striving to diversify their economies away from oil and build new industries. In Saudi Arabia, the planned IPO of Aramco, officially known as Saudi Arabian Oil Co., could be the world's largest if the government realizes its targeted valuation of about $2 trillion. Most analysts have put the valuation in a range of $1 trillion to $1.5 trillion.
It's not clear when Saudi Arabia will sell shares in its state oil producer, with some observers questioning whether the sale will happen at all. It would be "nice" to hold the IPO in 2019 and that is the "most likely" timing, the kingdom's Energy Minster Khalid Al-Falih said last month.
A Sabic deal could help Aramco's IPO prospects by bolstering the company's strategy of expanding downstream, said Jaap Meijer, managing director and head of equity research at investment bank Arqaam Capital Ltd. in Dubai. Still, Sabic shares are expensive relative to others in the industry, and that could hurt gains from an eventual transaction, he said.
"It's not clear that an acquisition would create value," Meijer said, adding that the ultimate valuation of a deal would depend on the sales prices for the shares, something he conceded might not be made public in a private arrangement between two state entities. "The sale should be made close to the market price."
Sabic shares have gained 27 percent this year, helped by MSCI Inc.'s announcement last month that it will include Saudi Arabia in its emerging-market index next year. The stock added 0.2 percent to close at 129.6 riyals in Riyadh on Thursday, giving the company a value of 389 billion riyals ($104 billion), according to data compiled by Bloomberg.
Aramco is already working with Sabic, one of the world's largest petrochemical producers, to turn crude directly into chemicals that are the building blocks for plastics and other commonly used consumer materials. The oil company has chemical units attached to refineries in the kingdom and plans to add similar facilities when it builds crude-processing plants globally, including in China, India and the U.S.
"Aramco has the ambition to expand in chemicals, so a Sabic deal would bolster that strategy," Meijer said. "The region is investing in chemicals globally."
Neighboring Abu Dhabi and Qatar both announced plans for new petrochemical plants in May. In April, Aramco teamed up with Total SA for a $5 billion facility in the kingdom and signaled its intention to invest more in the America. Persian Gulf producers are boosting capacity at home and abroad to secure sales in a business that McKinsey and Co. estimates will drive 70 percent of the growth in demand for oil through 2035.
Reuters reported on Wednesday that Aramco has invited banks to pitch for advisory roles on a potential acquisition of a strategic stake in Sabic.