Airbus-Boeing Duel Expands as Small Jets Take $26 Billion Haul
(Bloomberg) -- The rumble between Airbus SE and Boeing Co. for dominance in the market for smaller jets is already heating up, if a sales flurry at the aviation industry's biggest expo is any indication.
Embraer SA, the Brazilian planemaker tying the knot with Boeing in a $3.8 billion venture, had its best showing in five years with orders and commitments for 300 planes, including options. That amounted to a $15.3 billion haul before the customary discounts for aircraft purchases.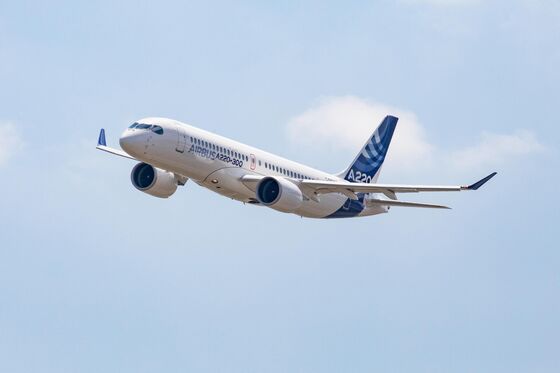 Airbus broke a sales drought this month for the aircraft formerly known as the Bombardier Inc. C Series. It won a 60-jet commitment from investors creating a new U.S. airline. That matched an order of the same size by JetBlue Airways Corp. on July 10, the day Airbus rebranded the jet as the A220 family. Combined, the deals have a value of about $10.8 billion.
"Bombardier has sold 400-and-something in 10 years, we have now sold 120 and counting in about a week," Airbus Chief Executive Officer Tom Enders said at a briefing Wednesday.
The dueling tallies herald the coming face-off between the world's two biggest planemakers over jets with less than 150 seats. While the market had been overshadowed during the past two decades as airlines sought ever-larger single-aisle aircraft to shuttle travelers, Airbus and Boeing are now muscling in and vowing to drive down supplier costs. If they're successful -- and prices fall -- sales will be positioned to accelerate.
Boeing and Embraer don't expect to finalize their complex agreement until late October, and the deal isn't expected to close until as late as the end of next year. While their sales teams won't be able to market the aircraft jointly until the tie-up is approved by regulators, Boeing already sees opportunity.
"When you take their bill of material and ours and compare the pricing, we think there's opportunity there," Greg Smith, Boeing's chief financial officer, said in an interview. "Obviously it'll help us in the marketplace sell those aircraft."
The Chicago-based planemaker is also studying ways to reap other benefits from the tie-up. Embraer has a wealth of engineering talent known for their savvy aircraft design. And the Brazilian company's experience making components such as landing gear would potentially help expand a Boeing initiative to bring more supplier work in-house.
Smith sees the relationship bolstering Boeing's manufacturing by driving competition and providing redundancy in instances where the industrial giant relies on a single source. "It gives us flexibility that we don't have," he said.
Embraer's commercial aircraft chief, John Slattery, sees the deal with Boeing closing ahead of schedule, which would enable the planemakers to start coordinating their sales efforts.
"I'd be very disappointed if it took a year and a half to execute this," Slattery said in an interview.
The Brazilian manufacturer's upgraded E2 models entered service this spring with Norwegian regional carrier Wideroe. Embraer's sales team is trying to secure "transactions of size" in the second half of the year, Slattery said.
The momentum was apparent at Farnborough, where Embraer stunned industry observers with a sales haul that included a Republic Airways order of 100 Embraer E175 regional jets valued at $4.7 billion, along with options for another 100 of the planes. United took 25 of the 76-seat planes, a deal valued at about $1.2 billion.
"It certainly exceeded my expectations," said John Plueger, chief executive officer of Air Lease Corp., the largest publicly traded U.S. aircraft financier. "I don't think all of those orders would've been there without the Boeing momentum."
Whether the sales flurry continues depends, in part, on whether Airbus and Boeing sustain their focus on the small jets -- and bring down prices.
"Why have people like us not ordered the C Series?" Plueger said of the company he co-founded with leasing legend Steven Udvar-Hazy. The jet family is too expensive, its customer base too limited, and its future under Bombardier was uncertain, he said.
To make the aircraft viable, Airbus has said it needs a "double-digit'' reduction in supply-chain costs and is in the process of negotiating with suppliers. Bombardier retained a minority stake in the program.
"If Airbus can improve on the price and get more customers, then it's a product that we'll have a bigger interest in," Plueger said.